Robots: supporting the frontline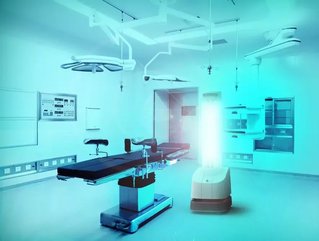 Robots have played multiple parts in the fight against COVID-19. Are they here to stay...
Considering the many challenges the COVID-19 pandemic created – the need for social distancing, staff shortages, exceptional levels of hygiene – robots seem to provide an ideal solution. 
The idea of using robots in healthcare isn't new - Japan has long been a pioneer in this field, particularly in care homes and hospitals, as the country's aging population and shrinking workforce leads to increased demand. 
In 2013 Panasonic launched HOSPI, an autonomous robot designed to support hospital staff. Complete with a rotating head (and smiling face), its sensors detect people's presence while it delivers bulky medicines and patient notes. Some models include a video conferencing function to enable remote calls. 
With robots operating in 7 hospitals in Japan and one in Singapore, towards the start of the pandemic Panasonic repurposed them - fitted with nozzles, the robots manoeuvre themselves from room to room to spray a disinfectant mist. 
Hygiene and disinfection have been the major areas where robots have been deployed during the pandemic, whether that's within healthcare settings or in public places, such as the drones used to sterilise Dubai's streets. And it's not just disinfectant sprays that have proven effective; robots using UV light that kills bacteria and viruses have been introduced in hospitals, airports and train stations. 
Danish company Blue Ocean Robotics have rolled out their self-driving UVD Robots to more than 60 countries worldwide, including to Italy, where one hospital doctor said that "before we received the UVD robot, six of the hospital's doctors had been infected with COVID-19. Since we started using the robot two months ago to disinfect, we have not had a single case of corona among doctors, nurses or patients."
This year 200 of the robots are being distributed across hospitals in Europe by Ecolab, as part of their Premium Operating Room Programme. Founded in Minnesota in 1923, Ecolab are a global specialist in hygiene and infection prevention, addressing challenges including pest control and sanitising water over the years. 
Ecolab's expertise - and existing programme for operating rooms - meant they were well positioned to respond to the pandemic's demands. "Variance for cleaning times in operating theatres is a big challenge" explains Howard Wilkinson, area VP for Healthcare, northern Europe. "We built a programme that can really bring a repeatability to cleaning and remove variance. Then we took the idea from cleaning to also disinfecting."  
"UVC light is not new in hospitals but it is a very manual process. It's simple physics that the light shines in a straight line, so the challenge is shadowing - you have to keep moving it. One of the biggest challenges in the health system is resources, so we want to reduce the need for someone to move that light around manually. In clinical trials we've done, cleaning a square space of 200 metres took 20 hours with manual repositioning. The robot takes three minutes, because once you've mapped the room and opened the door for it, it does the same thing every time - you can close the door and leave it. That's a massive time saving." 
The robots are already in use at a hospital in the Welsh town of Wrexham, which earlier this year had the highest rate of COVID-19 in Wales, leading to the suspension of elective surgeries. This has been happening across the UK due to the high numbers of patients admissions with severe COVID, and as a result waiting times for surgeries have skyrocketed. 
It is a pattern that is repeated worldwide, with an estimated 28 million operations cancelled as a result of the pandemic, creating a backlog which researchers say will take nearly a year to clear. 
Wilkinson sees the robots as the solution. "We've proven that we can reduce theatre turnaround time from 30 minutes to 10 minutes. In terms of the challenges we're facing, such as elective surgeries returning and productivity of staff, the robots can meet those straight away. The results are compelling. And they don't just have to be in the OR space, they can be used in the foyer of a hospital, or in a patient room. In Wrexham we're using them in oncology, where you want a very high standard of disinfection on a very frequent basis." 
In the future predictive analysis could add further benefits. "Perhaps one room isn't getting cleaned as well as another room. If the robot can detect that, it could focus on the room that isn't as clean. It could also have video and sensors, and eventually link up with some of our other programmes." 
But crucially, they are more than a fix for the current pandemic, as infections in hospitals is still a major concern worldwide . "The size of the problem is huge, but technology and monitoring can help massively" Wilkinson adds. "Once you understand what a robot can do in terms of infection prevention, it's very difficult not to get on the back of it."