Sergio Budkin, Virgin Media O2 Business, on 5G in healthcare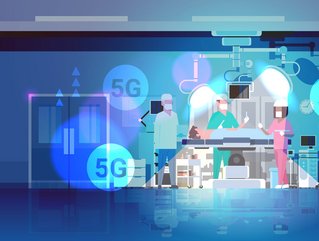 Sergio Budkin, Director of Market Development at Virgin Media O2 Business, explains how 5G can sustain the healthcare sector & the role of AI
Healthcare is going through a period of profound change as more healthcare organisations and professionals embrace new Internet of Things (IoT) technology to improve patient care and clinical outcomes. While this trend was apparent before the pandemic, it is now more prevalent than ever as Trusts look to reduce waiting times and ease clinicians' workloads. Whether it's monitoring patients' vital signs using handheld devices, using spatial insights to understand movement in hospitals, or monitoring the temperature of medicine fridges, IoT can help to improve healthcare on several fronts. Underpinning these and other important innovations is the latest in mobile connectivity: 5G.
The promise of 5G in healthcare
5G is a giant step forward for high-speed self-contained (private) 5G networks in hospitals. The standard brings with it unprecedented reliability, efficiency, accuracy, and super-secure connectivity that enable hospitals to unlock a new generation of powerful IoT applications. This is an important development, because the applications in question promise to drive significant efficiencies for care workers, helping to alleviate the time pressure many clinicians face, while also improving patient care.
This may all sound too good to be true, but this is in fact a clear case where the technology more than lives up to the hype. South London and Maudsley NHS Foundation Trust is already well ahead of the curve when it comes to 5G. Powered by a private 5G network from Virgin Media O2 Business, Bethlem Royal is now one of the UK's first ever 5G-connected hospitals.
The hospital's private 5G network is connecting NHS-funded digital health trials involving the use of 5G-connected devices for clinicians, IoT technology, AR headsets and AI, with potential for UK-wide rollout within five years. The range of benefits expected from the trials are broad and include everything from better connectivity to save clinicians time and improve patient records, to reducing medicine waste and improving air quality.
Four compelling use cases for 5G in healthcare
The work being carried out in Bethlem Royal Hospital is important because it provides a window into some of the powerful applications that could be used routinely in the NHS within the next few years. Some of the highlights include:
5G-connected e-observations (eObs)
In this trial, clinicians use an eObs app to monitor patients' vital signs using handheld devices. The devices can also be used to update patient records digitally and make live observations. The hospital's 5G network enables its clinicians to securely connect to the online e-observations platform in real time - staying completely separate from the hospital WiFi network. The app will save valuable time by allowing clinicians to complete their rounds more efficiently, and also makes for more accurate record-keeping for each individual patient.
Artificial Intelligence (AI)
Using Spatial Insights from Virgin Media O2 Business, the Trust will be able to use AI to create heat maps and understand how people move around the hospital. These insights will enable hospital managers to better plan public areas, getting a picture of queues, waiting times and busy hotspots. All data is anonymous, and the information is processed on-site to protect people's privacy and comply with GDPR.
Connected smart devices and smart monitoring (Internet of Things)
A third trial currently underway concerns the use of 5G to connect smart Internet of Things devices. Use cases being considered include the remote monitoring of medicine fridges to ensure drugs are stored at the optimum temperature to thereby reduce expensive waste, tracking air quality inside wards, and monitoring occupancy of desks and meeting rooms in the hospital.
Augmented Reality (AR)
From a technical support angle, the Trust is also trialling a Remote Expert solution that leverages 5G connectivity and Augmented Reality (AR) headsets. The solution will enable IT specialists from outside the hospital to guide on-site workers in completing complex tasks. The approach means that on-site IT engineers will be able to get support from experts based elsewhere quickly and easily when working on the hospital's network and servers.
A foundation for the future
At 75, the NHS is still a much-cherished institution. As it moves towards its centenary, adaptations to meet the increase in demand that will come with the UK's ageing population are positive changes to see. Implementing these changes will require input from the healthcare community, politicians, and the public.
Technology also has a role to play. As shown by the trials taking place in South London and Maudsley NHS Foundation Trust, dedicated 5G in hospitals and other care settings can support a range of powerful IoT applications such as real-time tracking of patients' conditions, remote support, and round-the-clock monitoring of medicines and equipment. In doing so, they can free up much-needed resources and, most importantly, improve the level of care provided to patients.