Unlocking the power of AI for improved ambulance services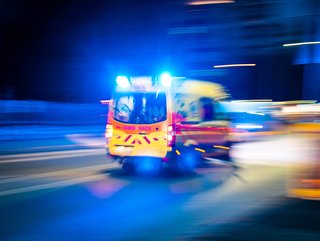 Ambulance services
Five9's Senior Healthcare Manager Roni Jamesmeyer shares her AI-powered vision for more efficient ambulance services & the potential of ChatGPT
Over the course of her 20+ years career, Roni Jamesmeyer, Senior Healthcare Manager at Five9, has had a particular specialism in supporting the tech needs of organisations spanning Fortune 500 companies, Federal agencies and healthcare institutions.
"My work has always been about helping clients navigate new challenges and solve urgent problems and truthfully, I've never been busier – or more motivated – as more organisations rise up to the challenge of tech transformation," she said. "Today, we're seeing organisations face a lengthy and exhaustive list of priorities when it comes to successful communication and the overall experience that customers, service users and even employees have with a brand. It's a tall order - and one which demands collaborative, outcome-oriented relationships with clients."
That's why consultancy and industry partners with real experience have a more pivotal role to play than ever, especially at a time when businesses try to untangle the complexity of legacy tech issues and move to transform their contact centre in the cloud.
Here, Jamesmeyer tells us more…
What led you to this industry?
"My experiences gave me a real passion for cloud technology, as well as a curiosity for the transformative roles of self-service, agent, and supervisor tools.
"Over the last twenty years I've witnessed all the great leaps in tech. But truly, our industry at present has never been more exciting to play in than it is today. Coming out of the pandemic we knew we were entering a new world where new opportunities would be borne from digital transformation. We are seeing a wealth of possibilities which are set to redefine old understandings of customer service."
What is Five9?
"Five9 is one of the largest cloud contact centre solutions providers, with thousands of customers worldwide and billions of calls processed each year. We are on a mission to bring joy to stakeholders in contact centres.
"That's no mean feat when the majority of people today say their experiences with contact centres are taxing, difficult or stressful. We want to set the stage afresh, delivering a whole new playbook that can turn the tide on those negative perceptions. At Five9 we believe that AI and automation tech is the key to unlock more joyful experiences for agents, customers, and business stakeholders alike. Our mission is to turn it all into a much more joyful experience for everyone at every level.
"We especially want to make sure the agent experience is central to any new approach. At a time when businesses are contending with myriad employment issues from the Great Resignation to skills shortages and fast rising expectations from employees, it's critical to lay down a roadmap towards improvement. Agents are often the 'unsung heroes' of the CX space and we believe that happier, more informed agents will inevitably result in happier customers, too."
Tell us about NHS Ambulance Trusts and your FOI* findings.
"42% NHS Ambulance Trusts who responded to our survey stated less than 10% of the 999 calls they receive are life-threatening. 75% of all NHS Ambulance Trusts confirmed that 10% or less of 999 calls were handled by AI technologies between 2022 and 2023. A lack of skills was cited as the main barrier to widespread adoption. The government is currently looking to integrate AI into healthcare services in its new workforce plan but has also recognised the need to 'build the workforce's confidence in AI'.
"Additionally, despite call volumes to 999 services increasing 67% of NHS Ambulance Trusts do not have plans to implement AI within the next 12 months to prioritise calls.
"Strikingly, only one single Ambulance Trust plans to implement AI within the next 3-5 years to do so. Our FOI findings highlight the urgent need for education around AI. Leaders need to gain an understanding of the benefits it can offer, as well as the process of migrating from legacy tech to newer models."
*Freedom of Information request to all NHS Ambulance Trusts, of which 75% responded.
How will AI support ambulance services?
"AI has the potential to be transformational for the NHS and its ambulance services. We need new strategies to alleviate the pressures staff are facing and harnessing artificial intelligence could be the key to 'future-proof' services.
"The FOI analysis we conducted shines a light on the untapped potential of AI technologies to help handle high call volumes and collect information to pass on to call-handling staff. As we approach winter flu season, technologies like Intelligent Virtual Assistants could be used to streamline triage processes, ensuring patients are routed to the most suitable care provider while the most urgent cases are prioritised accordingly.
AI can also empower healthcare leaders to manage rapidly fluctuating call volumes with ease and quickly enable remote operations during emergencies. Leaders can improve workforce management by predictably forecasting demand, accurately scheduling, and monitoring real-time adherence. They can arm supervisors with real-time omnichannel KPIS, staff statistics and easy ways to assist staff during patient interactions.
"Forward-thinking retailers have boosted customer engagement in this way for years, so patient care could certainly achieve similar levels of success. This should be the next step to safeguard NHS emergency services – and most importantly, it will ensure patients get the right care, without delay."
What do the next 12 months hold for you and the company?
"Now, with ChatGPT and GPT-3, AI can understand voice and can understand language, without hand-tuned models for each business. At Five9, this means it will become even easier for us over the next 12 months to democratise AI in communications services, including the public sector. We see a future where every call, chat and email is supported by an AI that summarises it, analyses it, takes notes and helps humans to follow up on what was discussed. We believe this is what lies at the heart of the next wave of telecomms innovation."
*********************************************
For more insights into Healthcare - check out the latest edition of Healthcare Digital and be sure to follow us on LinkedIn & Twitter.
Other magazines that may be of interest - Manufacturing Magazine. Check out our free upcoming virtual event, Manufacturing LIVE, 6th December 2023.
*********************************************
BizClik is a global provider of B2B digital media platforms that cover 'Executive Communities' for CEO's, CFO's, CMO's, Sustainability Leaders, Procurement & Supply Chain Leaders, Technology & AI Leaders, Cyber Leaders, FinTech & InsurTech Leaders as well as covering industries such as Manufacturing, Mining, Energy, EV, Construction, Healthcare + Food & Drink.
BizClik, based in London, Dubai & New York offers services such as Content Creation, Advertising & Sponsorship Solutions, Webinars & Events.