Telehealth offers chewable erectile dysfunction treatment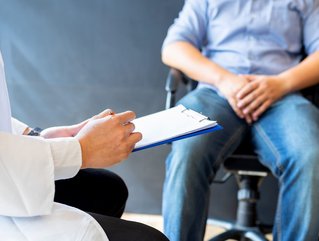 Hims & Hers Health and erectile dysfunction
Pavlo Maherovsky discusses Hims & Hers Health's chewable erectile dysfunction treatment, a discreet alternative available on its telehealth platform
Wellness service Hims & Hers Health is dedicated to creating personalised health experiences for all by thinking outside of the box - the pill box, that is. Up to 25% of people struggle to swallow pills and Hims & Hers Health has created a way around this, with chewable pills. It has just launched Hard Mints™ by Hims, a customised chewable erectile dysfunction treatment.
Telehealth platform Hims can support men with erectile dysfunction
According to research undertaken by Hims & Hers Health, two in every five people in the UK population struggle to swallow tablets. Hard Mints™ by Hims allows men to take a chewable, mint-flavoured pill instead, as determined by their healthcare provider. The Hard Mints™ by Hims were also rolled out in the USA, to great success.
Through Hims' telehealth platform, men living with erectile dysfunction can speak with a specialist who can determine if this is the right treatment for them. The chewable can start working within 30-60 minutes and stays in the system for up to 36 hours. Hard Mints also has the same active ingredients as Cialis® and Viagra®, but is set at a different dosage.
Chewable, discreet mint-flavoured treatment, alongside traditional pharma options
Pavlo Maherovsky is Co-General Manager for the UK at Hims & Hers. Prior to Hims & Hers, Pavlo co-founded direct to consumer healthcare company Honest Health with Sam Gluck, which was acquired by Hims & Hers in 2021.
Starting his career in investment banking and private equity, Pavlo was inspired to enter the world of healthcare after experiencing first-hand the tedium, inefficiencies and cost of hair loss treatment. This experience drove him to create a solution that offered men everywhere a more convenient and personalised experience.
"Hims & Hers is the leading health and wellness platform on a mission to help the world feel great through the power of better health," says Maherovsky. "Hims & Hers normalises health and wellness challenges—and innovates on their solutions—to make feeling happy and healthy easy to achieve. No two people are the same, so the company provides access to personalised care designed for results.
"Hard Mints™ by Hims provides those who are experiencing symptoms of ED access to a greater variety of treatments to suit their specific needs, as determined by a healthcare provider. Currently, as many as 2 in 5 of the UK population experience difficulties swallowing tablets. With the launch of Hard Mints™ by Hims, people can now access a chewable, discreet mint-flavoured treatment, alongside traditional pill-based options."
For more insights into Healthcare - check out the latest edition of Healthcare Digital and be sure to follow us on LinkedIn & Twitter.
Other magazines that may be of interest - Manufacturing Magazine.
*********************************************
BizClik is a global provider of B2B digital media platforms that cover 'Executive Communities' for CEO's, CFO's, CMO's, Sustainability Leaders, Procurement & Supply Chain Leaders, Technology & AI Leaders, Cyber Leaders, FinTech & InsurTech Leaders as well as covering industries such as Manufacturing, Mining, Energy, EV, Construction, Healthcare + Food & Drink.
BizClik, based in London, Dubai & New York offers services such as Content Creation, Advertising & Sponsorship Solutions, Webinars & Events.