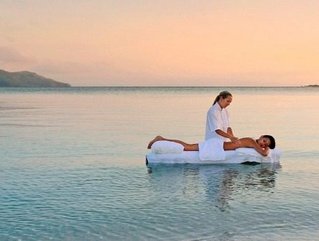 1. Chiva Som, Thailand Located on the Gulf of Thailand, Chiva Som...
Located on the Gulf of Thailand, Chiva Som is one of the most celebrated spas in the world. The resort boasts a tranquil tropical garden and beach front setting, state-of-the-art facilities and health and wellness experts dedicated to improving the vitality of their guests.
Guests can turn to Chiva Som to boost their relaxation levels, fitness, health and spirituality and those looking for aesthetic medical treatments are catered for by the resort's Niranlada Medi-Spa.
Upon arrival guests undergo a health and wellness consultation during which the appropriate activities and therapies are recommended to them. Over 150 pampering treatments are also available to visitors.
Accommodation is comfortable yet luxurious and features private butler service. Prices vary between seasons – peak, high and lean – and on standard of accommodation. A three night stay in an Ocean View Room, the most basic option available, will cost 44,550 THB ($1,400) and 49,995 THB ($1,570) during the lean and high seasons respectively.
Nestled in the foothills of the Himalayas, this spa oozes peace and tranquillity. The 79 different treatments offer a unique fusion between old-age therapies and modern spa techniques. Goals such as fat and weight loss, detoxification, anti-ageing, relaxation and stress management are all catered for. The resort offers a range of spa packages, starting at $2,000 for three nights.  
Spanning 70,000sqft, the Wellness Spa at Miami's Canyon Ranch hotel is reportedly the largest in Florida. The spa's health experts have created world-leading holistic and medical programs which, as well as promoting wellness, have been designed to ease and treat chronic illnesses. A particular spa highlight is the Aquavana thermal suite and accommodation prices start at $605 a day.
4. Tereme di Saturina Spa, Italy
Maintaining the ideal psycho-physical balance of visitors is the main aim of this sumptuous Tuscan spa. This is achieved through five focus areas; hydrotherapy, beauty, stress management, diet and fitness. In 2011 the spa was voted as 'Best for Medical Programs' in the Spafinder Reader's Choice Awards and a seven night course on its core Saturina Diet programme costs €1845. 
5. COMO Shambhala Estate, Bali
The second COMO resort to make this list has been dubbed a 'Retreat for Change'. It offers a "360-degree approach" to wellbeing and this all-encompassing method comprises of fitness activities, spiritual pursuits and therapies which can be enjoyed next to the River Ayung. Three nights in the cheapest accommodation option, a Garden Room, will cost $1,900 for two.
6. Parrot Cay, Turks and Caicos
The Parrot Cay COMO resort is an award-winning holistic spa. The resort is fully focused on rest, relaxation and rejuvenation and Asian inspired therapies and Ayurveda healing treatments are the order of the day. The latest non-surgical facial treatments are a speciality at Parrot Cay and rates start at $450 for a night stay for two in a Garden Room.
Located in the beautiful Great Barrier Reef, the spa at the Hayman island resort offers unparalleled levels of pampering. One of the spa's 'Signature Rituals' is the hour-and-a-half long Ocean Massage, costing A$400 (US$410). In addition to its traditional spa treatments, Spa Hayman gives visitors the chance to undergo a 'holistic analysis' during consultations with its wellness experts.
8. Sha Wellness Clinic , Spain
Winner of the 'Most Excellent European Destination Spa' in the 2012 Condé Nast Johansens Awards for Excellence, this luxury spa boasts a range of expertly delivered clinical treatments. The spa area itself has even been described as a 'paradise of wellness'. Prices start at €220 per person per night for a Deluxe Suite. Superior and Grand options are also available.
9. Beau-Rivage Palace, Switzerland
To create its lavish spa the Beau-Rivage Palace hotel partnered with CINQ MŌNDES, a luxury French brand specialising in spa treatments. The spa features various massage and treatment rooms, two pools, two tennis courts and a fully equipped gym. There are two private relaxation suites for those seeking isolation, and treatments from its 'Exceptional Treatments' range cost €300 per person.
10. Four Seasons Resort Chaing Mai, Thailand
Ancient Thai rituals are the inspiration behind the treatments at luxurious spa resort, located at the foot of mountains and overlooking rice fields. Featuring private treatment suites, herbal steam rooms and tropical rain shower massage tables, guests can also take part in a private class in the new Yoga Barn. Nightly standard room rates start at 20,000 THB ($630).