Data-safe Covid test and health pass launches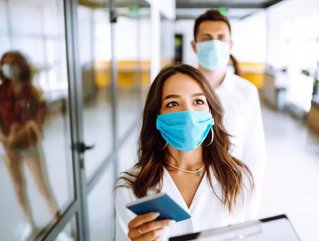 The digital healthcare pass combines rapid testing with patient health data...
A combined Covid-19 test and digital health pass launches today, with a special certification that ensures data is kept private. 
BLOK BioScience has created the combined 15-minute rapid antigen test and digital healthcare pass, billing it as the first 'privacy-centric' solution to store Covid-related data. 
The UK-based biotechnology firm say their rapid test can detect the presence of virus proteins from a nose or throat swab in 94 per cent of cases, giving results within 15 minutes. 
The end-to-end system aims to make it simpler for organisations to control the safety of their premises, by conducting tests on-site, and saving the results in the digital pass. 
The BLOK Pass enables an organisation representative to check the health status of the person who wants to access their premises simply by scanning their phone. 
The system then checks the individual's health status against pre-selected entry criteria, and a traffic light system signals whether they are fit to enter (green), need to take an action such as a test (amber) or could pose an infection risk and so should not be given access (red).
At the back end, organisations can configure their entry criteria around Covid test results, symptom tracking, travel history, close contacts and vaccination records, as well as analyse anonymous data to quickly spot any rise in infection rates so they can review their rules. 
The platform has been configured in a way that allows the integration of third-party systems such as HR platforms, travel applications and contact tracing apps.
Research has found there are widespread concerns around the data privacy of Covid-related apps, which is affecting whether people use them. 
In response the BLOK Pass has an ID2020 certification from the Digital Identity Alliance, a global partnership formed to advocate for digital IDs around the world. To achieve this certification a digital ID must meet a set of technical requirements to ensure data is controlled by the user, privacy-protected and portable. 
"The last few months have been a huge challenge for organisations, and up until now, most have understandably relied on Government measures to keep their people and premises safe" Chris Justice, BLOK BioScience president said. 
"We're working with a number of schools, care homes, event planners and airports to introduce an ethical and secure testing and digital pass solution that will build trust by protecting people's health and privacy. With entire industries struggling, this trust is so important if we are to keep our society open safely.
"By combining our unique digital health pass with our fast, low-cost point-of-care testing solution, these forward-thinking organisations are minimising the chances of an outbreak occurring unchecked and protecting their people's health, privacy, opportunities and - in some cases - whole livelihoods.
"It is clear that COVID-19 will remain alongside us for some time yet and, even when a vaccine is available, a system will be needed to manage the records. This is a long-term problem that requires long-term ethical and inclusive solutions to meet the health and data privacy needs of organisations and their people. That's exactly what the BLOK Pass is built for" Justice added.