Data tracker finds low uptake of flu vaccine in social care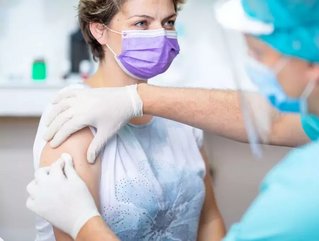 Workers in UK care homes urged to get vaccine as flu season approaches...
Social care workers in the UK are being urged to have a flu vaccination to avoid a "potential deadly winter tidal wave of respiratory conditions". This follows estimates from the Taskforce for Lung Health data tracker which say . By comparison, 74.3% of healthcare workers are vaccinated. 
The UK government has announced millions of people will be given the flu vaccine for free this year, naming it "the most comprehensive flu vaccination programme in the UK's history". The free vaccine will be made available to more than 30 million people this autumn and winter, millions more than received it last year. 
For the first time the flu vaccine will be available free for people aged 50 to 64, along with households of those on the shielded patient list, all school year groups up to year 7, all people aged over 65, pregnant women, and those with some pre-existing conditions including at-risk under 2s. All frontline health and social care workers are also entitled to the free vaccine. 
Meanwhile respiratory charities in England are urging social care bosses to encourage their staff to have the vaccination. Asthma UK and the British Lung Foundation have written to 29 of the country's biggest social care organisations to warn about the impact of flu in the social care setting this year if it is coupled with a second wave of COVID-19. 
Care homes were heavily impacted by COVID-19 when the virus was at its peak, and it's feared the low uptake of the vaccine among staff could cause a deadly second wave. 
The Taskforce for Lung Health, a consortium of 35 including patients, health care professionals, charities and professional associations, launched the data tracker in 2019. It was created to provide a streamlined set of statistics on respiratory conditions - information which so far had been split across different organisations. The tracker makes it easier to identify gaps in data sets, and inform the Taskforce's five year plan for lung health. Data is gathered in-house, analysed and then turned into easy to digest visuals and stories to inform people with lung disease and the general public. 
Alison Cook, director of external affairs at Asthma UK and the British Lung Foundation, and chair of the Taskforce for Lung Health, said: "The social care sector have already been devastated by the pandemic and we know how hard staff are working up and down the country.
"This winter could see the biggest test of our time. As many eligible people as possible need to get the flu jab to avoid a potential deadly tidal wave of respiratory conditions over the coming months which could overwhelm the NHS. Prevention is vital in protecting the most vulnerable in our society, so we urge all social care employers to do everything they can to make the flu jab a priority."