How Solv is providing high volume COVID vaccine distribution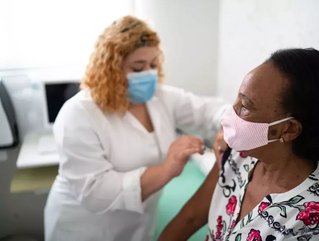 Digital healthcare platform Solv aims to enable millions of Americans to receive COVID-19 vaccines quickly and efficiently...
Digital healthcare platform Solv recently announced plans to enable over 100 million people in the US to get a same-day appointment for a COVID-19 vaccine. This comes ahead of an anticipated surge in vaccine supply, and President Biden's May 1 deadline for open vaccine eligibility. 
The company is currently working in partnership with 20 state and local public health departments across six states, to provide vaccines on a large scale to the population. In addition Solv is also now working with VaccineFinder.org, the tool used by the Centers for Disease Control and Prevention (CDC), to provide real-time vaccine appointment availability via the Solv app and on its website. 
Solv's CEO Heather Fernandez and Chief Medical Officer Dr. Rob Rohatsch explain that a major challenge to vaccine rollout is that people aren't sure where to go or what to do to get an appointment. "They're getting different directions from the state, county and city officials as well as healthcare providers, friends and the news media. Some people are anxious to get vaccinated because of their own compromised health status and the fact that until recently vaccine supply was limited. 
"Additionally, consumers are dealing with scheduling systems that weren't designed to handle a deluge of people registering and sites that are simply not developed well to satisfy consumer demand for easy, frustration-free, and clearly-defined sign up processes."
To tackle this, Solv for Vaccines lets vaccination providers set up an end-to-end process that requires only a few minutes from patients to book appointments, and includes pre-screening for eligibility, contactless check-in and appointment reminders. Additionally once someone has received their vaccine, this is automatically reported to the state's immunisation registry, saving time for clinical team members and public health administrators.
"Solv enables efficient, speedy and high-volume vaccination appointments" Fernandez and Rohatsch say. "Inclusion and access are part of Solv's vision for making everyday healthcare more convenient and consumer-centric." 
The platform has a link feature that lets state or country health departments invite individuals to book an appointment, making sure that the communities that have been hardest hit by COVID-19 are ensured access to vaccines. Solv links up with state and county pre-registration systems to allow health departments to reach individuals based on their post code and other parameters.
"Technology has a role to play towards herd immunity by allowing ease of vaccination registration" Fernandez and Rohatsch add. "The more people that can get in line, the more people can actually receive the shot - easily, effectively, and quickly, thus building momentum to reach herd immunity."