Places Leisure: making a difference locally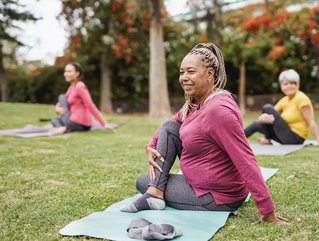 CEO of Places Leisure Paul McPartlan tells us about shifting to digital services and making a difference in local communities
Paul McPartlan is the Chief Executive at Places Leisure, a provider of leisure and fitness facilities in England and Wales that works with local authorities to deliver services that benefit local communities.  "We're on the social enterprise side of things" McPartlan explains. "Our main aim is to create what we describe as non-intimidating, localised family activities. We cater for the entire family, and we want  facilities to be accessible." 
The company's leisure centres had to close their doors for nine months during the COVID-19 pandemic, but fortunately Places Leisure had already begun a shift to providing services digitally. "Like many others will say, COVID accelerated that journey for us, so what would have taken us five years, we did in five - 12 months" McPartlan says.  "There was always a strategic focus on engagement outside of the physical setting. 
"What's interesting is that If you did anything virtual prior to the pandemic,  it was seen as a cost-cutting exercise. Virtual classes for example were seen as an inferior product. But certainly since the initial lockdown people are consuming their content in a different way,  and now they want it either physically on the site, at home, or sometimes even on the move.  We needed a digital platform that gave us ease of use, speed, and the flexibility to be able to do  those three different things, as well as making it accessible 24 hours a day, so some of that content would be live streamed, while some of it is pre-recorded." 
In the last few months there has been more of a push towards live streaming. "Because capacity constraints have now been lifted,  if you can't get to your 7 o'clock class, a live stream lets you feel as though you're part of the class, see everybody there and see the instructor, and do it from your living room. That is proving to be incredibly popular." 
McPartlan says that the addition of their digital offering has been beneficial to both customers and the business. "It increases the customer experience, which in turn will improve retention and smooths the acquisition pathway for new members as well. And that's not just in terms of content, it's also about the ability for people to join and make purchases online. That whole digital experience of engaging with either existing members or new members is absolutely paramount." 
Another new service is their COVID Recovery Programme, designed to provide therapy and rehabilitation to people who are affected by Long COVID. This launched in August 2021 across 58 of Places Leisure's locations, which represents roughly half of all their total sites, with a view to extending it to the rest of the business after an initial trial period. 
With funding from charitable foundations including Travis Perkins, and accredited through fitness trainers CAWS, Places Leisure has worked with the University of Sheffield on the programme, which offers 16 hours of 1-1- support with a fitness coach, consultations on lifestyle and nutritional advice available digitally and in person, and up to 12 months of support - Places Leisure's longest ever health programme. 
It will be available free of charge, through doctor referrals and self-referrals too. "We think it's going to have quite a significant social impact" McPartlan says. "There are about 5.8 million confirmed cases of Long COVID in the UK to date. We're working very closely with the clinical commissioning groups (CCGs) to ensure that we're targeting the communities that really need it." 
Another scheme they are trialling, this time in the city of Sheffield, will provide children with free swimming lessons. McPartlan explains this follows footballer Marcus Rashford's campaign for children to receive free school meals, which caused the UK government to u-turn after voting against it. "All children that are entitled to free school meals will  get free swimming lessons. We think that's something which will really gain traction and fits perfectly with our social enterprise model.  The latest estimate is something like 1.2 million children will leave primary school now unable to swim, exacerbated by the pandemic. The COVID recovery programme is very similar in regards to ensuring that we're actually trying to make a difference locally, and socially." 
Places Leisure already works closely with CCGs and doctor's practices on programmes for smoking cessation,  obesity and weight management. "These are prescribed programmes where we contract with the CCG to deliver outcomes.  I think with Long COVID it will move into a recorded outcome measure type of activity. 
In the future McPartlan sees the role of community leisure services changing to work even more closely with local healthcare providers.  "I think we'll have a new model which will be broader than the old traditional model of, here's a gym with a swimming pool, here are some classes, we open our doors, we encourage people to join, we get paid for that and then we close the doors.  I think we'll move into a broader healthcare setting,  partnering with CCGs, doctors' practices and local care providers, and I think we'll move towards a payment by results model, which will ensure that the data we're collecting can be turned into recorded outcomes." 
This would be similar to PROMS, the national Patient Reported Outcome Measures programme which has been running since 2009. "We will need to show that as a provider  we can make a difference.  Interestingly, we are launching a scheme like this in Sheffield again, which has a really forward-thinking local authority.  They want to have an impact on child obesity, so we'll be running schemes which will ensure children are active after school and at weekends, which is our bread and butter. The programme broadens from being just physical delivery to covering diet, nutrition, sleep and mental health, and we're partnering with a couple of other organisations to deliver it. If we make no impact, then we won't get paid or will get paid at baseline. But we'll get paid incentives if we can make a difference." 
"I think that payment by results and recorded outcome measures are the two indicators that will start to really form the future of leisure service delivery in the UK" he adds. "We were slowly moving in that direction but like everything else COVID-19 has highlighted that the need is there. Deprivation in certain parts of the country is absolutely there and the data is screaming out for us to do something about it.
"We complain about how dreadful COVID has been, but it has given a lot of industries the kick they probably needed to accelerate some of these things and to be more joined up. Some will take time to move, and this is a monumental culture shift, but it is slowly becoming unstoppable in terms of where it is heading."