Trump reveals his tough stance on tackling the opioid crisis, which is swiftly panned by experts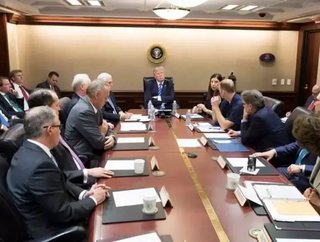 President Trump has been making headlines across the healthcare sector due to his plans to tacke the opioid crisis. Since the opioid epidemic was deeme...
President Trump has been making headlines across the healthcare sector due to his plans to tacke the opioid crisis.
Since the opioid epidemic was deemed a public health crisis back in October, no additional funding has been put in place to tackle the crisis, where a drug overdose has become the leading cause of death in the US, with over 50,000 recorded in 2015 alone, the American Society of Addiction Medicine has claimed.
This figure is rising, but Trump has become quick to condemn those who he feels is responsible for keeping the crisis alive.
In Manchester, New Hampshire, Trump outlined his plan to tackle the crisis. Whilst he has reduced Medicaid funding to support those suffering from addiction, he has revealed that he is a firm believer in the death penalty for those fuelling the crisis.
"If we don't get tough on drug dealers, we are wasting our time, and that toughness includes the death penalty," he said on Monday.
"Think of it, you kill one person, you get the death penalty in many states," Trump informed a crowd in Pennsylvania. "You kill 5,000 people with drugs because you're smuggling them in and you're making a lot of money and people are dying, and they don't even put you in jail. They don't do anything...and then you wonder why we have a problem."
Whilst this is a practice undertaken in countries across Asia, Trump has long-shown admiration for Philippine President Duterte's war on drugs, which has led to thousands of deaths in the country. With better communication with the Philippines, China and Mexico, Trump will also seek to disrupt the supply of drugs across the borders.
By stating that the implementation of the death penalty would be a firm deterrent for drug dealers in the US, Trump has also announced that the Administration is looking to source $6mn in funding to support new programmes to tackle the crisis.
Additionally, the Government is set to tackle the pharmaceutical industry and drug makers who have played a role in the opioid epidemic. The announcement has led to a fall in stocks, and a number of states have sued opioid manufacturers as a result, CNBC has reported.
"Our Department of Justice is looking very seriously at bringing major litigation against some of these drug companies," Trump said. "We'll bring it at a federal level. Some states are already bringing it, but we're thinking about bringing it at a very high federal level and we'll do a job."
See also
Noting that the crisis has even impacted children of school age, Trump is set to freely provide nasal spray, Narcan, to schools across the US, Reuters has revealed. The spray will work to obstruct the effects of an overdose and will work to support first responders across the accident and emergency sector.
Whilst Trump has shown forward-thinking to support the local community through the implementation of new programmes and services, the establishment of the death penalty has been slammed by health experts and public figures.
Dr Harold Pollack, a Public Health Professor at the University of Chicago, said, "I don't think the death penalty for drug dealers will accomplish very much," and that increased investment and expansion of healthcare services to support those with addiction should be implemented.
The Drug Policy Alliance has stated on Twitter: "Trump's long-awaited plan to 'solve' the opioid overdose crisis should be out next week. It's centered around ramping up prosecutions and incarceration, and even calls for the death penalty for certain sales. This is a spectacular failure of leadership."
There have even been calls that the reestablishment of the death penalty will further promote institutional racism. Vanita Gupta, President & CEO of The Leadership Conference on Civil and Human Rights put forth her view of the subject on Twitter:
"For more than three decades, we've enacted sentencing policies that are racially and ethnically biased and have contributed to incarceration on a scale that exists nowhere else in the world. Decades of past experience have shown that we cannot punish ourselves out of this crisis.
"The Trump administration are seeking a decidedly punitive approach to America's drug problem – one that seeks to increase already disproportionate sentences for drug offenses and employ the death penalty.
"This is more than just a criminal justice issue – it is a public health issue. Therefore, we cannot incarcerate our way out of this crisis.
"We all want safe and thriving communities that provide opportunities to all. But, the record is clear: increasing sentences for drug convictions will not contribute to public safety, but will bear heavy fiscal, social, and human costs.
"Instead of the Trump proposal, we should pursue efforts like the bipartisan #SentencingReform and Corrections Act, recently approved by the Senate Judiciary Committee.
"The #SentencingReform and Corrections Act would give federal judges' discretion in sentencing people below a mandatory minimum sentence for low level drug cases and curb outsized sentences. This is a smart approach to the issue.
"In addition, we must invest in public health approaches, drug abuse education, and comprehensive treatment programs that have proven to be successful in reducing drug use, drug crime, and recidivism rates.
"We tried the punitive and overly simplistic approach of the War on Drugs approach 30 years ago, and it failed. That's why we're seeing, in states around the country, a bipartisan push to recognize that substance use requires a public health approach.
"We must reject efforts to further politicise this crisis. We cannot just do what feels good or sounds good. We must take an evidenced-based approach to ending the opioid crisis."