Truyo: Checking employee health without violating privacy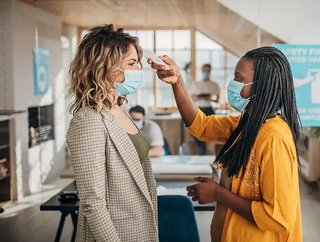 Global technology firm IntraEdge have created an online platform that tracks employee health data securely. President Dan Clarke tells us how it works...
IntraEdge has a suite of health check management solutions that include hardware and software for body temperature measurement, and health questionnaires that can integrate with multiple back end systems to check employees in. 
Powered by their privacy compliance platform Truyo, and backed by technology from Intel, the suite enables employers to track employee health and vaccination status. 
Clarke explains that the platform is very flexible in terms of the data it can capture. "Hospitals may need to record much more detailed information whereas other businesses may try to insulate more of the information recorded" he says. 
"The standard platform records temperatures and answers to basic medical questions – like "how are you feeling today? Do you have a fever?" - so that at a minimum businesses can decide if employees or customers can enter the building or not. In this standard platform, no sensitive information is shared. It can be configured so managers, for example, only see whether or not their employees passed their temperature check but not the exact temperature." 
He adds that while sensitive medical information is regularly collected by a hospital, it is very atypical for employers to collect this type of sensitive information and there are regulations and employee privacy to keep in mind. "Health Check Management solutions powered by the Truyo privacy compliance platform ensure privacy remains intact" he says. 
Who is enabled to have access to the information is very important. "If an employee identifies COVID-19 symptoms through the Health Check Management solution, the results are anonymised and sent through the database but no information is stored on the hardware. Our solution also tracks and logs who actually has access to what information which will be integral for organisations preventing lawsuits down the line." 
Additionally all data is encrypted, and their platforms contain redactable certificates that are individually commissioned, which ensures access controls are in place and can be tracked. "So if there was a breach in security, there is a record of who accessed the data, when it was accessed and who actually had the ability to access it" Clarke says. 
A safe return to work
When businesses started getting back to work, Clarke says they identified that employee's top concerns would be around privacy as employers requested medical information. "We saw the opportunity to add hardware solutions to Truyo's platform, to build solutions that made employees comfortable to return to work, safely. 
"Contact tracing and health checks are required of businesses but these processes still need to be compliant. People are worried that their medical information, like pre-existing conditions or possible vaccine exemptions, could impact their employment so businesses need to ensure employee information is secure and safe." 
"Companies aren't thrilled about having this information either" he adds. "It sets them up for more legal repercussions if handled incorrectly. The best thing a business can do is be transparent with its workers. Pick a set of guidelines whether they're local or from the Centers for Disease Control and Prevention (CDC), follow them closely and tell your employees what they are. Being open with processes during this time is essential." 
"It is the employer's ethical responsibility to do what they can to protect employees from the spread of COVID-19. Employers are embracing this, they want to have a safe work environment for their workers, and create a culture and environment where employees feel safe returning to work that also follows guidelines set by the CDC."