Combatting communication problems in community healthcare clinics
By Tom Downes, CEO, Quail Digital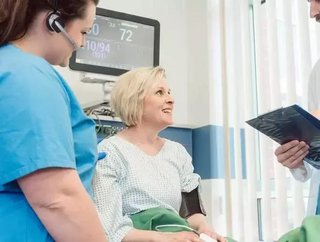 Lightweight headset tech will help clinical workers reduce unwanted hold-ups, improve workflow and a much improved patient experience The notion of a c...
Lightweight headset tech will help clinical workers reduce unwanted hold-ups, improve workflow and a much improved patient experience
The notion of a community healthcare clinic is constantly evolving from the traditional model of a local clinic staffed by general practitioners and nurses, serving mainly rural populations. There is now a renewed interest in these organisations and their potential to deliver a more integrated care service within the community. However, in order to successfully make this transition, there is a need to better equip these clinics with the tools to ensure they're able to cope with the extra demand and the ever-evolving medical treatments that are being practised.
With over 500 community healthcare clinics across the UK, these organisations are an essential part of the healthcare system. Whilst they are investing vital time into evolving their structure and delivering a focused range of medical services, without the right technology in place staff productivity will suffer, hindering their ability to make the most out of not only the current resources available, but any new, innovative resources they decide to invest in.
A collaborative approach
To foster a more productive, collaborative environment, communication should be implemented across the entire team. From diagnostics to preventive treatment, clinical procedure and rehabilitation, delivering a diverse set of services can create a stressful environment, if the team, from receptionist to clinicians, are wasting valuable time trying, without success, to communicate. But as services expand, enabling staff to speak easily with one another to seek answers to questions, locate the right individual and better manage the flow of patients through the appointments process, has become even more important.
See also
Community healthcare clinics traditionally rely on telephones to communicate internally, but these can often go unanswered. Additionally, this device commonly only works when just two people want to communicate with each other, restricting the ability to send messages, updates and instructions to the whole team. Naturally, therefore, the likelihood of missing key information or mishearing a fellow colleague is increased, creating unnecessary stress and delays.
And with the amount of doctors in community health services rising by 2.6% in 2017, this dated communication tool will not be able to facilitate the growing numbers of staff working in these clinics. They are providing services for extremely dense populations, therefore they require a greater amount of staff to help accommodate this demand. Team this up with the competition these clinics have with other medical centres serving the same geographic, and the need for a better communication tool that will help them provide a positive experience is even more important. 
Clear Communication 
Providing clear, discrete communication to all members at reception and in the clinics will have an extremely positive impact on the running of the community healthcare clinic. Lightweight headset technology will help the team working in these clinics to reduce unwanted hold-ups, improve workflow and offer a much improved experience for each of those patients who walk through the door. And with the ability to coordinate easily with one another, the team can become more productive and efficient to ensure they're prepared for the demands felt by this expanding healthcare system.
Critically, in this most challenging of jobs, adopting a headset system that operates on a single channel will ensure all members of staff are in permanent communication. This way, doctors, nurses or receptionists are able to approach their colleagues who are working in another part of the clinic with any urgent query or question they may have. This immediate and non-obtrusive communication method is particularly important during times of expansion and innovation, as every team member will be learning and adopting new methods and structures.
Community healthcare clinics are evolving and there is now a growing need to implement digital solutions to provide staff with the ability to hear everything clearly, at all times. There are also other daily practices that can help facilitate a more tranquil environment. Along with headset technology, eliminating unnecessary, frantic noise across the clinic will drastically reduce the distractions all doctors, nurses and receptionists have to face. Not only will this have a positive impact on stress-levels, but it will also make it a lot easier to communicate effectively amongst the team. Daily team meetings are also vital for every member of staff in a community healthcare clinic. With a better understanding of everyone's workload for that day the team will have greater visibility of who is available to assist with other tasks and enquiries.
By implementing communication tools and ensuring greater visibility across the team clinical operational efficiencies will be increased while staff stress levels will be reduced and their wellbeing improved.