[PHOTOS] The 13 Creepiest Abandoned Hospitals Around the World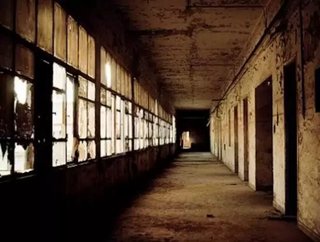 There is a certain fascination to ruins – the way time weathers their physical demeanor but they still have a story to tell. Some of the most famo...
There is a certain fascination to ruins – the way time weathers their physical demeanor but they still have a story to tell. Some of the most famous abandoned sites, and creepiest, are hospitals. While they once healed the sick, they're now decomposing from the elements. 
Medical equipment sits rusting, hospital beds wait for the next patient, and waiting rooms hold stale air rather than family members.
We take a look at 13 of the spookiest abandoned hospitals from around the world.
1. Severalls Mental Hospital – Colchester, England
The 300-acre Severalls Hospital was an insane asylum and once housed 2,000 patients back when it was opened in 1913 where doctors would perform experiments on the patients. In 2005, arson destroyed the hospital's main hall.
2. Brooklyn Navy Yard Hospital – New York City, New York
Built in 1838, the 600,000 sq. ft. Brooklyn Navy Yard Hospital features a Greek revival style. Last year the New York Times reported that Steiner Studios have committed $345 million to transform the complex into a high-tech media hub.
3. Linda Vista Hospital – Los Angeles, California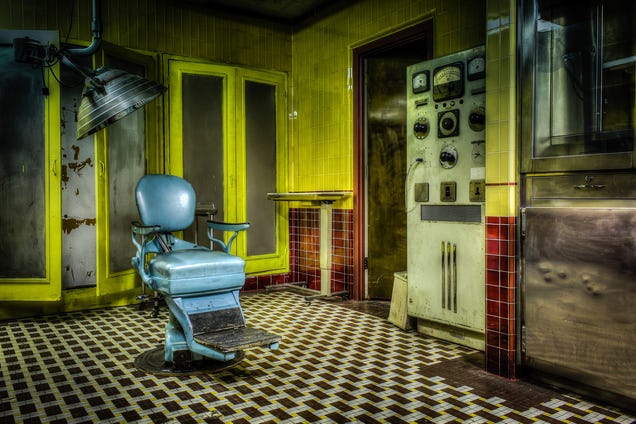 Originally called the Santa Fe Railroad Hospital, Linda Vista Hospital in the Boyle Heights neighborhood of Los Angeles is reported to be haunted. The hospital opened in 1905 and closed in 1991 due to a decline in the quality of care. According to the Los Angeles Times, developers are planning to turn the six-story complex into apartments for low-income seniors. (Neil Kremer photos)
4. Renwick Smallpox Hospital –Roosevelt Island, New York
The 100-bed hospital opened in New York's Roosevelt Island in 1856 and was the first hospital in the country to admit victims of contagion and plague. The building was abandoned in the early 1950s.
5. University of Kiel Clinic – Germany
Photographer Jan Bommes took this image of an abandoned clinic at the University of Kiel in Germany. The school is the largest, oldest and most prestigious university in the German state Schleswig-Holstein. The clinic was part of the university's department of neurosurgery.
6. Trenton Psychiatric Hospital – Trenton, New Jersey
What once served as a lunatic asylum for the state of New Jersey is now home to terrifying stories of doctors who, in an effort to "cure" patients, began performing unnecessary surgeries, including the removal of organs, without consent. Founder Dr. Henry Cotton was said to have a "progressive attitude in treating his patients."
7. Waverly Hills Sanatorium – Louisville, Kentucky
Considered one of the most terrifying hospitals in the US, Waverly Hills is an abandoned hospital that held upwards of 150 tuberculosis patients, and rumors include a nurse trying to give herself an abortion before killing herself.
8. Tranquille Sanitorium – Kamloops, British Columbia
Originally built to house tuberculosis patients, Tranquille Sanitorium has actually been featured in numerous TV shows and movies, while also getting a ton of reports of hauntings within its walls.
9. Beelitz-Heilstatten –Brandenburg, Germany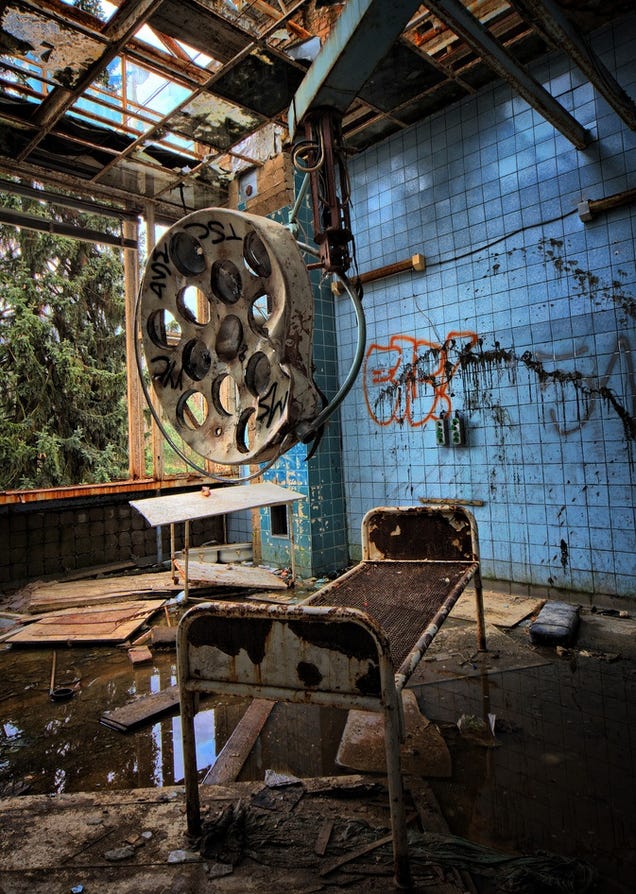 This enormous hospital consisted of 60 buildings and was used extensively during wartime. It was once home to a young Adolf Hitler during WWI and has been filmed in movies such as The Pianist.
10. Willard Asylum – Willard, New York
The Willard Asylum for the Chronic Insane (that's really its name) is supposedly haunted. The asylum is surrounded by numerous unmarked graves for its deceased residents.
11. "The Blue Hospital" – Germany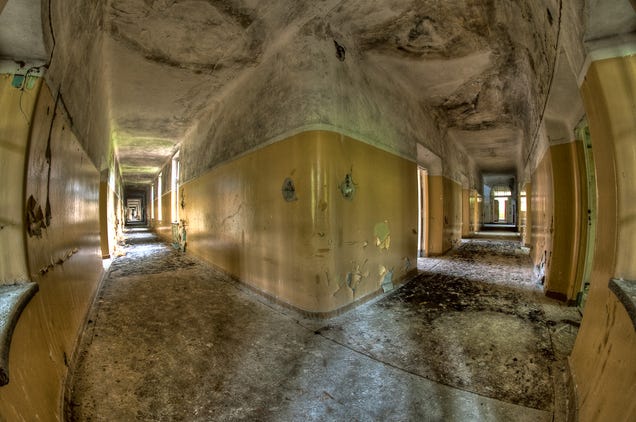 There's not much information on this hospital other than the fact that it was once somewhere in the former German Democratic Republic, now northeast Germany. (Michael Kotter photos)
12. Unknown Hospital #1 – Pula, Croatia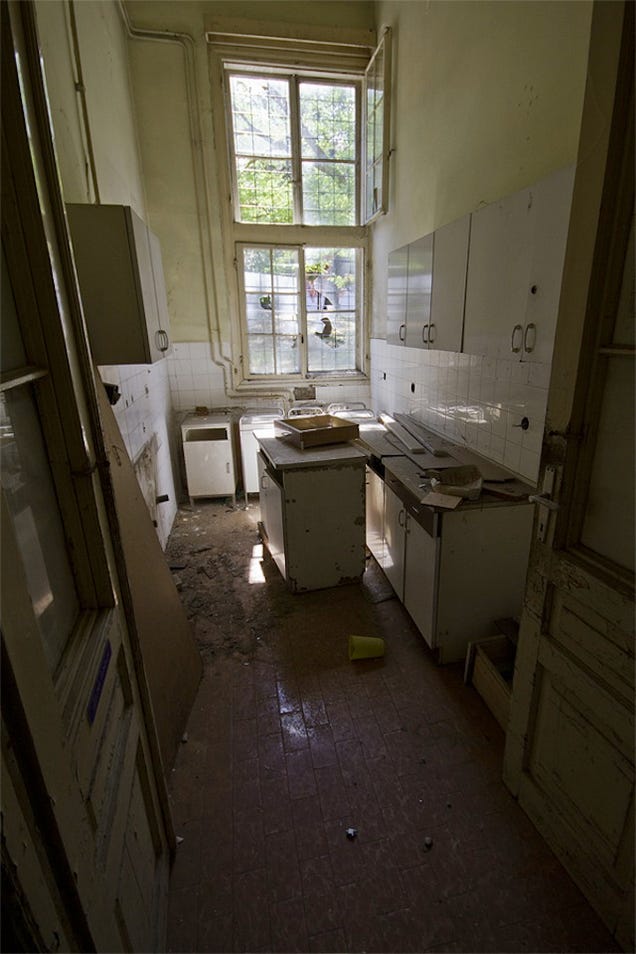 The only thing we know about this hospital is that it has been abandoned since 2003.
13. Unknown Hospital #2 – Kuwait City, Kuwait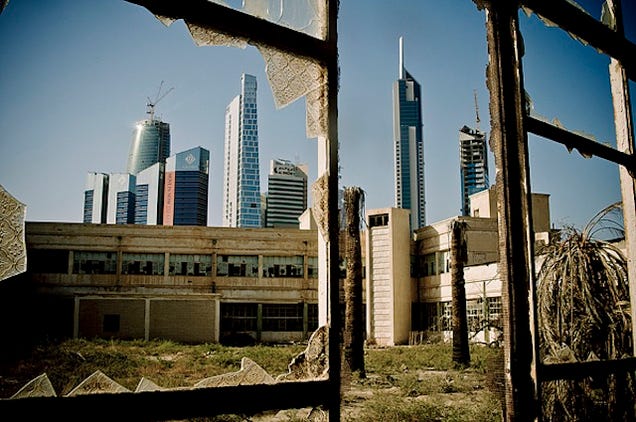 Similar to Unknown Hospital #1, all we know is that this hospital is in downtown Kuwait City and has been tremendously weathered by time. (Patrick Makhoul photos)