Schneider Electric's intelligent patient room: need to know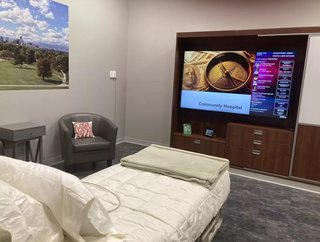 We take a look at Schneider Electric's new smart patient room. 
Schneider Electric has launched a virtual showcase that features its new "intelligent patient room". What is it exactly? 
Who: Schneider Electric is a multinational that develops energy and automation solutions for many different industries - including hospitality, education, defence, and healthcare. Founded in 1836, today it is a Fortune 500 company, and it currently provides technology to 40% of hospitals around the world, among them Penn Medicine, one of the top hospitals in the US where Schneider's EcoStruxure for Healthcare is deployed, an IoT solution. 
What: Schneider has launched its Innovation Experience Live Healthcare Lab, an immersive experience that takes visitors through a demonstration of a hospital, including the doctor's office, the operating room, and the intelligent patient room. 
The room features a digital patient footwall - a touchscreen that creates a single reference point for patients, families and healthcare providers, by incorporating care information, entertainment and environmental controls all in one place.  A separate digital patient door display has important information for healthcare staff. 
All Schneider's equipment is low-voltage, and integrated so that the patient room, clinical needs and IT are all seamlessly connected, what Schneider calls a digital "system of systems."
Why:  Mike Sanders, Customer Projects & Services in Healthcare Innovation at Schneider Electric, explains: "The hospital of the future will need to put the patient experience at the forefront, using innovative and connected systems to provide superior in-hospital care experiences." 
"With the shift to remote work and business brought forth by the pandemic, we knew that we needed to invest in a new virtual experience that showcases our vision for a truly integrated healthcare experience. We believe our intelligent patient room is the solution that our healthcare partners and customers have been looking for, and we're excited to offer a way for them to experience it no matter where they are in the world."
Where: The virtual experience was modelled after the new innovations installed at Penn Medicine in Philadelphia, the first real-world installation of Schneider Electric's fully integrated intelligent patient room technology. It is currently being hosted at the company's St. Louis Innovation Hub and Innovation Executive Briefing Center (IEBC) facility.