Destroying superbugs with the Antibac Pen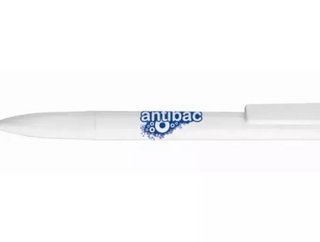 Written by Andrew Hill Medical staff are constantly aware of the risk of transferring germs and bacteria whilst at work and, of course, there is a high...
Written by Andrew Hill
Medical staff are constantly aware of the risk of transferring germs and bacteria whilst at work and, of course, there is a high risk of spreading bacteria in any medical environment. Although hospitals and other medical environments employ various ways to decrease the likelihood of transference, the cleaning of stationery and other items have to take a back seat to immediate patient care.
In an article in the Lancet (as far back as January 1998) there was, for the first time, recognition that pathogens could be easily transferred on doctors' and nurses' pens. According to the article, 36 pens from six different hospitals were tested for MRSA and resulted in 25 percent of them being infected with the virus. The contamination from the tested pens could be an indication of the staff's hands according to the authors of the article; however, even after washing their hands, medical staff still came into contact with the virus on the pens. The authors concluded that "these results re-emphasise the importance of hand-washing….but we are not quite sure what to do about the pens". With MRSA prevalent in hospitals across the UK, the argument that prevention is hugely more cost-effective than the cure is slowly beginning to take hold.
To expect staff, visitors and patients to change or cleanse pens every time they use them would be unreasonable, which leaves the potential transference problem still very present. Dr Stephanie Dancer recently wrote an article (again in the Lancet) which, in essence, concluded that Staphyloccus aureus and MRSA was found in variety of hospital items (including pens high on the list) and that infection was often passed inadvertently from object to patient. Even though Dr Dancer's theme was overwhelming, logistically it is unlikely that the findings will result in any changes to pen usage.
So, can pens be antibacterial?
Generally, writing instruments which claim to be 'antibacterial' have been made using a covering spray or with silver ion/biocide technology in order to prevent the transferring of bacteria. It can be argued that both are seriously flawed. However, two years of Anglo-German scientific research has resulted in a new antibacterial pen from European pen manufacturer Senator. The Antibac Pen has an effective antibacterial additive built into the plastic body of the pen itself and also on the logos and messages printed on the barrel of the pen. Senator has branded it 'The Living Pen'. Simply put, the plastic is treated in such a way that performance and the effectiveness is unchanged throughout the lifetime of the product. In that respect, this antibacterial pen is 'one of a kind'. The pen is completely safe for all skin types and has EN71 certification in addition to being independently tested to BS EN 20645.
An interesting anecdote comes from Jan Murray, a nurse in the UK who works in a research unit. She is primarily concerned by nurses taking urine and blood samples and then writing down the results using the same gloves, thus allowing different bacteria to come into contact with the pen. She said: "It often worried me that the pen just gets put back in our pockets then used later when doing paperwork. It's a relief to know that there is now something available like the Antibac Pen; it is certainly something I will be investing in." 
For more information, visit www.antibacpen.com. The Antibac pen can be bought in various quantities directly online from the distributor company, Antibac Limited, www.anti-bac.ltd.uk or through Senator's distribution network.