Health and IT coalition forms to tackle inequalities in US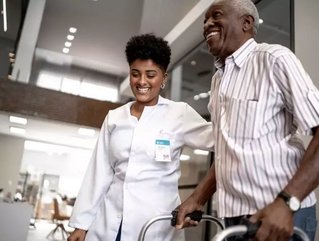 The group will explore ways to use technology to mitigate health disparities...
Healthcare providers and IT companies in the US have joined forces to form a coalition aiming to address longstanding health inequalities that have been amplified by the COVID-19 pandemic. 
The Consumer Technology Association (CTA)® and the Connected Health Initiative (CHI) have launched the Health Equity and Access Leadership (HEAL) Coalition, formed by private and public sector organisations including Best Buy Health, Boston Children's Hospital, Google, Microsoft and Validic. 
The multi-sector initiative will create recommendations on the greater use of technology to mitigate health disparities, particularly coordination of resources, policy advocacy, research and education.
Shortly after the pandemic struck the US, COVID-19 quickly began to impact certain demographics more than others. Data from surveillance networks maintained by the Center for Disease Control (CDC) show that for a three-month period ending in mid-July, age-adjusted COVID-19 hospitalisation rates were about five times higher for Black, Hispanic, American Indian and Alaska Native people. Recent Medicare data shows that black people are hospitalised with COVID-19 at a rate nearly four times higher than white people.
"The rise of digital health technology gives us a unique opportunity to help advance health equity, improve access to care, increase health care quality and lower costs," said Rene Quashie, vice president, digital health, CTA. "Disparities in health have long been an issue in the US, and the COVID-19 pandemic has only exposed those gaps. With greater use and adoption of technology, we can help reduce inefficiencies and provide more personalised care for marginalised patients and consumers." 
"We are at a tipping point for wider use of digital health tools because of the COVID-19 pandemic," said Brian Scarpelli, senior global policy counsel, CHI. "As this public health emergency illustrated, technology can assist providers in treating patients no matter their location. We cannot afford to leave marginalised populations behind in this effort and must make a greater effort to examine how technology can help close the gaps in the provision of care due to racial disparities within the healthcare system."
The initiative is co-chaired by , founder and chief health innovator at Rimidi, a digital health company that enables personalised management of chronic conditions; and Dr. Lisa Fitzpatrick, founder and CEO at Grapevine Health, former chief medical officer for DC Medicaid, and one of five co-chairs on Joe Biden's committee for health care policy.
Members of the Coalition include representatives from American Medical Association, AT&T, Best Buy Health, Boston Children's Hospital, Cambria Health, Google, Grapevine Health, HP, Intel, Microsoft, MLEM, Omron Healthcare, ResMed, Rimidi, University of Mississippi Medical Center, University of Virginia Center for Telehealth and Validic.
Allied organisations to the initiative include Brookings, Kapor Center, Plum Alley Ventures. The group will also include non-participatory observers from key government agencies including the Federal Communications Commission (FCC).
"We have a unique opportunity at this moment of national focus on health disparities to drive significant change in access, outcomes, and affordability of healthcare," said Ide. "The disproportionate impact of COVID-19 on racial and ethnic minorities has shone a spotlight on other inequities as well, such as higher rates of chronic disease and significant discrepancies in life expectancy in Black and Hispanic communities. 
"Technology can help overcome intractable barriers to equitable care, but we must ensure that these tools are available and accessible to these communities that need them the most."
The coalition will explore ways in which the increasing use of health technology such as mobile health, wearables, remote monitoring, clinical decision support, AI and telehealth can be used to improve the country's response to health disparities in diverse communities and demographics. 
This can range from using technology such as AI in health clinical decision support to more effectively treat patients, to using social media as a platform at the local level to empower low-income pregnant women to seek care and reduce infant mortality.
The group's first project will be a white paper with policy and operational recommendations on technology's role in tackling disparities in the American healthcare system.