How automation helps hospitals address Covid staffing issues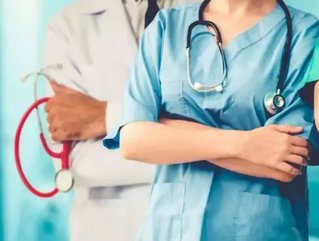 Automation is helping a Toronto hospital redeploy staff to critical care during the pandemic...
Software company Hyperoffice has released an automation tool that is helping healthcare providers address staffing issues during the pandemic. 
ARMADA - which stands for automated resource matching and deployment application - has been designed to help hospitals and medical facilities with staffing, resource management and deployment. 
It's currently in use at Michael Garron Hospital, a large community hospital in Toronto, where it's being used to manage redeployment of staff from departments with a surplus, to critical departments experiencing a surge during Covid-19.
ARMADA is enabling the hospital to take disparate data inputs and bring them all together in a standardised, accessible format. Staff have access to this information through a secure platform at a click of a button. It's resulted in less data errors and avoids miscommunication, duplication of data and effort, as well as needing to repeat communications to people. 
"The true problem we were looking to solve was staffing the hospital in the middle of a pandemic" says Taylor Martin, Manager, Clinical Resource Team and New Nursing Initiatives. "If you're going to be able to provide that critical care to patients who are sick, you need to have the right staff available and assigned where they're needed. The problem that ARMADA solves at the highest level is making sure that we are adequately staffed and that the resources are allocated appropriately."
ARMADA has enabled managers across the hospital to enter their daily staff surpluses and requirements. The tool makes a match with a single click, automatically notifying all relevant staff. Additionally historical information on all redeployments are captured in one place, and ready for reporting and payroll purposes.
"My group had the critical role of staff allocation" Taylor said. "We were faced with a continuous flood of data and information across telephone calls, person to person interactions, emails, and Excel spreadsheets from surplus staff eager to help on the one hand, and scores of urgent requests for staff on the other. Add to this further communication for every allocation.
"ARMADA allows us to view and analyse our data in new ways by taking data from literally a piece of paper into a database that we can filter, sort and analyse. It also improves internal communications, reduces phone calls, emails, and meetings because people can view their own data and get the reports when and where they need them. Instead of redundant, transactional conversations, we now have more value-added interactions."
In addition to ARMADA, Hyperoffice have developed him.ai, automation software that offers hospitals and medical facilities pre-built applications to automate processes typically handled through spreadsheets and other manual mechanisms. 
"hims.ai has ever-expanding AI and RPA capabilities that allows our system to learn from the behavior of our users, identify patterns, and automate repetitive processes" says Farzin Arsanjani, President at hims.ai. 
"We have applied our expertise in AI and in no-code workflow and data management applications to offer the healthcare market pre-built applications that hospitals and other stakeholders can immediately put to work and automate business processes - staff redeployment, new staff onboarding and offboarding, lab data collection and reporting and many others.
"The pandemic created an unprecedented surge of demand and load on operations while shrinking the time to respond to these demands in real time. We view this as an inflection point for both innovation and adoption of technology to automated and streamline manual processes, and to replace mundane bpm tools with intelligent and advanced technologies." 
Looking ahead, Arsanjani says this presents an opportunity for hospitals to become more efficient. "We see tremendous opportunities in applying better workflow, and data management tools, AI and RPA capabilities to improve the unique and specific business processes that each front line healthcare administrator has to employ to keep their operations humming along. 
"Achieving this goal requires practical, affordable solutions that can be implemented at unit level, and a level of agile adaptability that is only possible through no-code, AI, and RPA technologies."