From the NBA to Medtech: How One Player Changed the Game, and Lives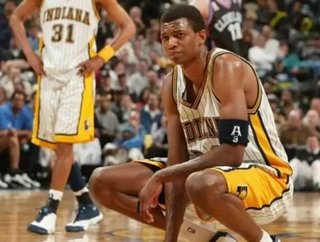 He was a first-round draft pick; a teenage millionaire; Kevin Durant before there even was a Kevin Durant. A star on the basketball court at the precoci...
He was a first-round draft pick; a teenage millionaire; Kevin Durant before there even was a Kevin Durant. A star on the basketball court at the precocious age of 18, he was a player blessed with a center's height (6'11") and a guard's game.
Drafted straight out of high school by the Indiana Pacers, Jonathan Bender was a prodigy in the making: he broke Michael Jordan's McDonald's All American Game scoring record, had a 39-inch vertical leap, and was foreseen to become the next Magic Johnson.
But his career was sadly short-lived due to one thing: chronic knee pain. Due to what Bender believes was an abnormal growth spurt during his teenage years, his knee pain winnowed down his seasons: from 46 games in the 2002-03 season to 21 the near, to seven, to two. By his sixth season, Bender could barely make it down a flight of stairs.
Jonathan Bender retired from the NBA in 2006, at the ripe age of 25.
A Million-Dollar Idea
Bender always knew that basketball would not be long-term. In fact, he admired business tycoons such as Andrew Carnegie and J.P. Morgan and was enthralled by the success Mel Simon had found outside of the NBA.
[READ MORE] What Baseball Can Teach the Health Care Industry about Big Data
"I was on the beginning of my path, and basketball was a stepping-stone. Basketball was my endgame before when I was in high school," Bender told Fansided in a recent interview. "When I got there and started looking at the businesspeople and the game that really mattered, it wasn't my endgame anymore. I had a new one."
After a few investments panned out, ultimately leading to losses, Bender struck a million-dollar idea while people-watching at a public park in Houston: a training and rehab device that would improve the way people walked.
As reported by The Star in June of this year:
Slumped on a park bench in Houston one afternoon shortly after leaving Indiana, Bender watched runners and walkers stroll by, and a light bulb went off in his head.
He raced to Walgreens, then to Home Depot, then to Sports Authority. ("Picture a 6-11 guy walking up and down every aisle for like an hour," he said.) He bought electrical tape, rubber bands, zip ties, ankle braces, metal rods and wire cutters. He went home, slapped together what he'd sketched out in his head, and asked his girlfriend, Bernice, to come into the room.
"Try this on," he told her.
She looked at it and laughed.
"It looked like garbage," Bender admits.
Bender didn't know anything about medical devices, but after years of dealing with bad knees, he knew there had to be a better way to avoid injury.
His prototype, when completed, looked like a weightlifting belt with a pair of rear-facing resistance bands dangling from the bottom.
Naming it the JB Intensive Trainer, Bender worked on his invention extensively for a number of years.
He spent two years testing it by having his friends use it while they worked out then took it to undergo research studies at Purdue University. Researchers there determined that it did in fact offer lower-joint relief while easing pressure on the knees and building strength in the quads, hamstrings and calves.
After working out with his invention for a full year, Bender felt confident in the renewed strength in his knees and at age 28, decided to return to the NBA.
A Second Chance with the New York Knicks
Upon announcing his decision to give the NBA another shot, Bender spoke with ESPN to explain his comeback.
"I didn't want the windows to close on me," Bender told ESPN in 2009. "I wanted the opportunity to fight off the demons inside my head … I read these articles that say, 'He's the top bust' or 'He's one of the guys who didn't live up to their potential.' I don't want to be 38 or 40 looking back thinking, 'I should've done this.'"
Bender had kept in close contact with Donnie Walsh after leaving the NBA the first time, and as the current GM of the New York Knicks, Walsh decided to give Bender a tryout.
Impressed by what he saw, Walsh signed Bender to a contract midway through the 2009-10 season. In 25 games, Bender averaged 4.7 points in 11.7 minutes.
Knicks' doctors were equally as impressed with Bender's renewed success and after putting him through a battery of strength tests, learned that Bender had the most lower-body power of any player on the team.
[READ MORE] 20 Technologies Expected to Revolutionize the World of Medicine
Bender was offered a chance to return to the game the following season, but Bender turned it down, telling Sports Illustrated, "Even though I knew the money would be good, it just felt like I'd be going backwards."
Success with a New Company
With renewed focus on his invention, Bender invested in refining the design of his JBIT, finding an overseas manufacturer and researching distribution channels. In July 2013, the renamed JBIT Med Pro, hit the market.
Partnering with brick-and-mortar stores like Relax The Back and an affiliate network of people and online business helped propel Bender's company's, JB3 Innovations, revenue growth of 40 percent month over month since December.
But that was just the beginning.
In October of this year, Bender's company announced that they have seen an exponential 5,000 percent growth over the past 18 months. Additionally, the device is winning over the opinions of those in the medical field.
Bender's company recently finalized a partnership with University General Hospital Systems, Inc., in Houston and Dallas, and netted a spokesman in the company's CEO, Dr. Hassan Chahadeh, according to IndyStar.
Bender, who married over the summer, runs the entire operations from his laptop, with order fulfillment and customer service handled by third parties. Most of Bender's customers are baby boomers, with some NBA and NFL players also using the device. But Bender expects the sports industry customer end of his business to pick up with the release of a second device he is working on, one that will be targeted for serious athletes.
Bender, now 33, isn't surprised by the company's success, as he told Forbes earlier this year, "My vision was always way ahead of the curve."
Follow us on Twitter (@HealthcareGlbl) and like us on Facebook!