A Sound Investment
By Tom Downes, CEO, Quail Digital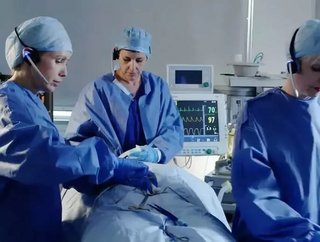 Clear and unambiguous communication between team members is an essential component of any surgical environment. It's particularly important – and in...
Clear and unambiguous communication between team members is an essential component of any surgical environment. It's particularly important – and indeed particularly challenging – in catheterisation (cath) labs and electrophysiology (EP) labs where physicians and clinical staff in interventional cardiovascular and other minimally-invasive therapeutics are typically spread across multiple rooms and physically separated by lead-lined doors.
In these environments, the laser-like precision of the surgical procedure needs to be guided by similarly precise instruction from technicians and radiologic technologists located outside of the operating room (OR). It requires collaboration and concentration. Moreover, it requires crystal clear communication.
The inherent complexities of EP and cath lab settings alone present significant communication challenges. However, these are exacerbated by the natural cacophony of a typical working environment; the chatter of workmates, the hum of the air conditioning and the relentless drone of essential technology. These combine to create a high-stress clinical environment where multidisciplinary teams' need for tranquillity is commonly confounded by practical necessities they cannot change.
There's widespread recognition amongst EP physicians and their clinical colleagues that communication challenges during live procedures are increasing stress-levels, impacting workflow and – in cases where patients choose to remain conscious during surgery – damaging the patient experience.
It's not just a recognised problem, it's an escalating one. The global use of electrophysiology and robotic surgery is growing rapidly. As secondary care facilities seek to capitalise on the clinical, operational and patient benefits of new surgical innovations, analysts predict that investment in electrophysiology and robotic surgery will grow by 10 and 20% respectively in the next 5-10 years.
The increased uptake – which continues an existing trend towards minimally-invasive technologies, where appropriate – places renewed pressure on facilities to ensure that OR communications are optimal. Failure to do this risks squandering the undoubted benefits of surgical innovation; the patient implications of an avoidable clinical error due to miscommunication could, in the worst extremes, be catastrophic. Fortunately, communications technology has evolved to present a simple, affordable solution.
See also
Traditionally, facilities have adopted primitive measures to facilitate communications between the OR and the monitoring suite. This has ranged from using strategically-placed microphones in each room and amplifying conversations through analogue speakers, to communicating via bulky 'helicopter pilot-style' headsets.
Both approaches are problematic.
Basic microphones not only have variable pick-up ranges they are also a hostage to interference. The likelihood of mishearing an instruction, or repetitive, panicked communication that can unsettle conscious patients, naturally increases with basic microphones. Similarly, the use of bulky headsets also has drawbacks; aside from the implications of their inferior sound quality, large headsets can be cumbersome and inhibit surgeons' movements.
In recent years, the development and adoption of wireless headset technology has transformed communications in EP/cath lab environments.  The technology, which operates on high quality digital frequencies and is encrypted to avoid interference from other devices or emissions in the OR, enables multidisciplinary teams to collaborate and communicate – hands-free – in the interventional OR or hybrid suite, at monitoring stations, through adjacent control rooms and ancillary areas.
2015 research published in The Journal of Minimally Invasive Gynaecology showed that the use of wireless headset devices in robotic surgeries was associated with improved quality of communications between team members as well as a reduction in the noise level in the OR. A lead clinician in the study suggested that the technology helped contribute to better patient outcomes by creating a calmer environment for clinicians and staff.
Certainly, the more tranquil environment enabled by better team communications can only enhance the patient experience in patients who choose to remain conscious through their procedure. By eliminating frantic or confused communication between the multidisciplinary team, avoidable patient anxiety is naturally reduced. Similarly, stress-levels across the clinical team are significantly improved.
There is little doubt that clear and discrete audio communication between physicians and clinical staff in EP/cath lab settings results in safer, more effective workflows and treatment. As the global use of EP and robotic surgery increases, wireless headset technology will be an essential companion to ensure optimal, efficacious and cost-effective communications.