Ultrasound device for smartphones launched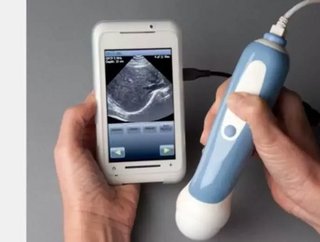 A smartphone ultrasound scanner has finally been launched months after being approved by the US Food and Drug Administration (FDA). The MobiUS device h...
A smartphone ultrasound scanner has finally been launched months after being approved by the US Food and Drug Administration (FDA).
The MobiUS device has been designed to be used in a wide range of imaging processes, including cardiac, abdominal, fetal and pelvic.
Although the MobiUS has not been designed to replace ultrasound scanners, David Zar, the co-founder of Mobisante believes its low price will make it a popular choice among smaller health clinics.
The MobiUS is retailing at $7,495, making it cheaper than traditional ultrasound imaging systems which often cost in the range of $100,000.
To read the latest edition of Healthcare Global, click here
Although it is a similar price to its biggest rival, the Vscan by GE, it boasts wireless connectivity which its competitor does not, meaning it is possible to send images directly and immediately to consultants.
Approval for the device was initially given in February by the FDA, but it has taken until now for the MobiUS to meet the numerous guidelines laid down by the governing body.
However, the delay in getting the product to market has meant it is only compatible with a smartphone that is already nearly two years in age.
The MobiUS works with the touchscreen Toshiba TG01 smartphone, which runs a Windows Mobile 6.5 operating system and requires a USB 2.0 port for the ultrasound probe.
Such a requirement means at the moment, it is not compatible with more popular smartphones and their operating systems, such as Google's Android OS and Apple's iPhone.
It is no surprise that major players in the mobile device industry as desperate to expand their product offerings into the smartphone and tablet market, but the FDA's lengthy approval processes mean many have been put off making the move.
Instead they have chosen to wait for the FDA to refresh its policies and processes for the regulation of mobile devices, but according to reports in Business Week magazine, that is not happening until next year.
This is not stopping mobisante, however, which plans to launch a tablet computer-compatible version of MobiUS in the near future after the company has noted client demand.
"These are tablets healthcare professionals have had at the bedside for years," Zar told MobiHealthNews.  
"[MobiUS] would be an added benefit for the platform they already have in place.
"We can also offer the full imaging solution, though, and that might appeal to smaller clinics," he added.
"Our work has just begun, really."
An overview of Mobisante's MobiUS device:
Our magazine is now available on the iPad. Click here to download it.