Virtual reality and training in the post-Covid era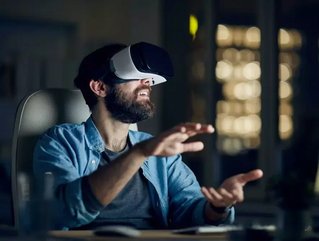 Immersive scenarios are emerging as important remote training tools...
Virtual reality and its close relatives augmented reality and artificial intelligence have emerged as important tools for healthcare, particularly when it comes to training. The American Board of Internal Medicine (ABIM) announced as far back as 2010 that it was better for students to be trained by simulation tools before attempting any procedures on patients.  
Key reasons for this are reducing errors and providing better patient safety outcomes. Other, practical reasons include being able to scale up to train larger numbers of people, and of course the fact that remote training is possible, something which has become essential since the COVID-19 pandemic began. 
VR training is frequently used to train surgeons, but it has possibilities in other areas of medicine, as Dr. Alex Young, founder and CEO of Virti explains. "The scenarios are broad, spanning mental health training to surgical procedures with a focus on infrequent, high-risk clinical events, as well as soft-skills training for health professionals at all stages. We are more problem-focused than fixed to a specific specialty or type of technology, with an emphasis on capturing unique data insights that would be otherwise impossible with traditional training."
In July this year Los Angeles-based Cedars-Sinai chose Virti's VR corporate platform to train new members of staff, given the impossibility of face-to-face inductions because of COVID-19. Clinicians spent a total of 280 hours in immersive scenarios, including simulated events like resuscitation. 
In the UK, NHS hospitals in south London are using Virti for mental health support training. The platform immerses the users into particular environments and then assesses how they respond to stress, with the aim of reducing anxiety. 
"The training simulations we provide allow health professionals, or any employee, to make mistakes and learn from them in a safe environment" Alex says. "One of the big issues with traditional training is recreating the stress and emotion of real clinical practice and being able to collect data on performance at scale. One of the goals at Virti is to take traditionally subjective data from important skills such as communication, team work and decision-making under pressure and make them objective, quantifiable and validated to provide organisations with better insights on how prepared their workforce really is while making on-the-job training more equitable to access and more scalable."
The software is available on VR and AR headsets, as well as mobiles and desktops. Alex says their aim is to make access to training and data insights fairer and more convenient, so that standardised learning can be translated into clinical practice. Widespread adoption, he says, will happen when people understand the benefits in terms of learning as well as financial outcomes. "Helping learning and development leads understand that these solutions can seamlessly integrate into existing workflows and learning systems is key, so there is no added onus on staff and educators." 
"Ultimately, the goal is to improve human performance and therefore patient safety, and organisations are more focused on this through the lens of COVID and the need for remote training to help employees now and in the future."