First private drive-thru Covid test centre opens in London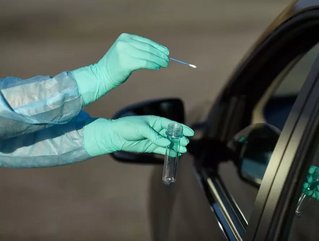 The centre has opened in response to the ongoing issues for people to access Covid tests...
On-demand doctor service GDPQ has launched the first private drive thru Covid test centre in London, to help manage the overwhelming number of tests needed across the capital and the ongoing issues in receiveing prompt tests results. 
GDPQ has launched the service to meet the increasing demand for testing. People experiencing Covid-19 symptoms can book a 10 minute slot at the site in Hadley Wood, a suburb of north London, using GPDQ's online system. 
The tests are conducted using swabs on-site at the centre, and the result is available within 24 hours. In the case of a positive result a GP will call to provide a consultation on how best to manage symptoms and address any concerns. 
The UK has seen a substantial rise in infections since September, however there have been issues with access to testing, with reports of the test booking system suggesting the closest test centre for people in London is in Inverness, Scotland.  
The lack of tests has meant many people self isolating without being sure whether they have Covid-19. Since schools reopened, children that develop any symptoms such as a fever they are sent home, and not allowed to return unless they've had a negative test or isolated for 10 days, which also affects other household members. Some schools send home as many as 250 children. 
The problems with accessing tests has meant rationing, allocating these to frontline healthcare staff in the first instance.  
"Over the past few weeks we've seen reports of delays with the UK's Covid-19 testing system. The situation is becoming increasingly serious; patients are being told to travel miles for or a test or, in some circumstances, test just aren't available" says Dr Anshumen Bhagat, a doctor for the National Health Service (NHS) and Co-Founder of GPDQ. 
"People have been reduced to staying at home for 14 days with worrying symptoms and no guidance on when a test may be available. We've therefore launched this service to support the ever increasing demand for drive thru testing, especially in the capital to provide people with peace of mind and the ability to live as normally as possible." 
The tests cost £199 if administered by a clinician in at the test centre or in the person's home, or £129 if delivered to a home address for the person to self-test. GPDQ also offer antibody tests - to detect antibodies in the blood to establish whether the person has had the virus, and remote doctor consultations.