Millions in UK avoiding treatment for pain due to Covid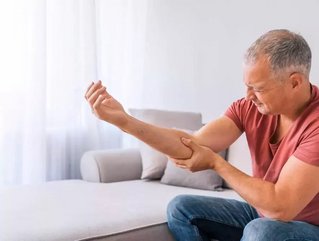 A survey found that many people self-medicated...
Three quarters of people living with pain in the UK didn't seek treatment during the lockdown, a new study has found. 
Additionally, over a third of pain sufferers 'self-medicated' to avoid burdening the National Health Service. 
As Covid-19 cases continue to rise, around 28 million people are now under local restrictions to socially distance and avoid public transport. Trade association the Musculoskeletal Partners Network (MSKPN) have issued a warning to the UK's 18 million pain sufferers to seek medical treatment for their ailments in case of a second national lockdown.
The advice comes as the trade association, whose members include physiotherapists, osteopaths and chiropractors, reveals the findings of a study into the musculoskeletal health of 2000 people during the first lockdown. Of those polled, more than half (57 per cent) suffered with pains, strains or discomfort across areas including in their joints, limbs, hips, back, neck, knees, shoulders, ligaments, muscles or conditions such as arthritis.
When asked how they treated their conditions, almost three quarters (73 per cent) did not seek any treatment during lockdown, with 36 per cent saying it was because they self-medicated, 35 per cent saying they didn't want to overburden the NHS with a low priority issue, and 33 per cent responding that they didn't want to attend a healthcare setting due to exposure to COVID-19.
Andrew Walton, co-founder and chair of MSKPN, says: "Our study shows three quarters of those with pain in the UK – that's around 13.5 million people - could potentially be avoiding treatment because of Covid. With the threat of a second nationwide lockdown looming and local restrictions already in force, it is terrifying to think such a big chunk of society could be suffering in silence – choosing to self-medicate to mask their pain and avoiding medical intervention."
"While they may have thought they were helping the NHS by not seeking guidance, in the long run they are risking long-term health issues. Plus, the knock-on implications for the NHS could be mammoth, especially as we already know that waiting lists for operations, which includes millions of routine hip and knee procedures, is set to reach 10 million people by the end of the year."
"The figure that one third of those with pain, approximately six million people in the UK, may choose to self-medicate rather than get professional help is also a huge red flag. A study released last autumn found that one in four people were taking "addictive medicines" - we hope, by shining a light on the problem, these people will now get the treatment they desperately need, instead of reaching for the medicine cabinet."
Andrew, who also founded community healthcare provider Connect Health over three decades ago, concludes: "We know now is a scary and uncertain time for many people, but help is out there, and new innovations are now available like the C-Chart tool, which helps clinicians weigh up the risk of Covid versus the support the patient needs. Tools like this are both reassuring for those requiring treatment and for the healthcare professional and will ensure that the safest route to treatment, which could include a face-to-face consultation under stringent safety measures, is found."
The study also found that more than a fifth (22 per cent) of respondents admitted that their condition worsened during lockdown, over a quarter (26 per cent) feel weaker/less well physically now than before lockdown and 26 per cent said they felt more stressed and less in control during lockdown.