More vaccine data needed to avoid Covid divide, report finds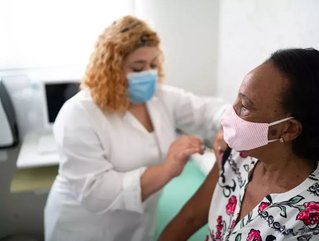 Lack of vaccine data risks a rise in infections, report says...
A lack of Covid-19 vaccination data in the UK could cause a dangerous "vaccine divide", a new report from Policy Exchange states. 
In the paper, the think tank says anecdotal evidence suggests uptake has been comparatively lower in economically deprived and ethnically diverse areas, but crucially, more data is needed. 
Nadhim Zahawi, Minister for the COVID-19 Vaccine Deployment, has commented that his "big worry" is that high national uptake is contrasted by low uptake of the vaccine among ethnic minority communities and that "the virus will very quickly infect that community".
The NHS has indicated that uptake will need to reach 80% in each local area for the benefits of the vaccine to be felt – with the consequent prospect of eased lockdown restrictions. 
If vaccine uptake remains low among these groups with the current strategy, the report says there will be reasonable public health grounds to keep these areas under tighter restrictions while they ease elsewhere – an undesirable situation that would only amplify existing health inequalities. 
The report makes the following recommendations: 
Better and more granular data collection. The data must be published weekly and include breakdowns of the offer for vaccination based on ethnicity, sex, precise age, and whether this was accepted or declined.
Regular monitoring and evaluation of interventions. The Government should publish ongoing, monthly assessments of the impact of interventions to address vaccine hesitancy.
Dedicated ethnic minorities communications strategy. There should be a much more concerted effort to reach ethnic minority groups, such as a general election-style campaign with sophisticated targeting of particular groups.
Re-assess the current cohort prioritisation. The Joint Committee on Vaccination and Immunisation (JCVI) should re-assess its current prioritisation methodology and consider making changes to reflect new data regarding higher mortality risk. This should be cross-referenced with the data on refusal rates once made available.