The rise in digital healthcare devices needs safe storage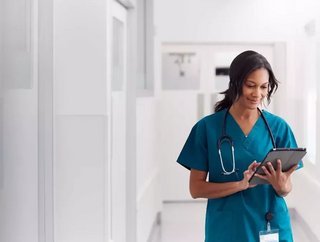 With the increase in portable devices and remote healthcare, reliable storage and charging solutions are needed...
The Covid-19 pandemic has demonstrated the need for frontline healthcare staff to operate in the most productive, safe and flexible way possible. Hospitals across the world have had to completely rethink their model in order to accommodate unprecedented numbers of intensive care patients. 
This has led to an increased use of portable devices and telehealth solutions to keep both patients and clinicians safe from infection. PowerGistics aim to help this new way of working by ensuring information is stored securely and devices are always charged when they're needed. The US-founded company build storage towers for laptops, tablets and mobiles that are used in the workplace, with a particular focus on healthcare. 
"PowerGistics came about as a response to satisfy a need" explains the company's President Nathan Roberts. "An IT director of a school in south central Wisconsin needed a device charging unit that took up minimal space and could organise the charging cables. When he found nothing on the market, he approached G.D. Roberts, a fifth-generation family-owned business established as a blacksmith shop in 1870. The team and I came up with an innovative and modern design that would fulfill this request. Since our start, we have been solving complex problems with simple solutions."
Shortly after they launched products for education, Google discovered their towers and, after asking for a specific design from PowerGistics, instituted their Grab and Go Program. They now have a PowerGistics Tower in nearly every one of their offices around the world. 
When it came to developing solutions for the healthcare sector, they needed to come up with a solution that would help them work as efficiently as possible. "Healthcare professionals are finally getting the level of recognition they deserve – and have rightly been lauded as the heroes of the pandemic" Roberts says. "But they need help to run efficient and effective workplaces, providing the best possible patient care."
"With the growth of mobile devices being used on the frontline we have discovered that, lacking proper storage for laptops and tablets, these devices often end up in a drawer or cupboard at the end of the day."
"Having inadequate charging and storage space for technology devices means they are set down and charged wherever one can find a plugin, or space enough to set them on a counter. Often, they are locked in a cabinet overnight, and brought out during the day, charged in random places."
Not storing devices properly can lead to damage, and if they're not charged this will cause problems for staff throughout the day. Powergistics' vertical towers have up to 20 shelves for standard size tablets. There is also a range of towers that provide storage and charging at the same time. 
"Some healthcare facilities may store devices in a big, bulky cart, but have found them more frustrating than helpful. You cannot see inside, cords are too long and messy, devices are stored standing up, and the carts just take up too much space" Nathan says. 
Roberts says COVID-19 has demonstrated some surprising benefits to using their products. "When the pandemic first struck in the spring, and large sections of hospitals were locked down, we donated PowerGistics Towers to a number of facilities in the UK. Mobile devices such as tablets were being used to help patients in quarantine stay connected with their families. Keeping such devices safe, stored and charged was helping keep families and friends together. That was a fantastic thing for us to be a part of."
The trend for moving away from using paper and towards digital information has also increased the need for portable devices, along with increased telehealth. 
"We believe that, while much has been written about the need to digitise many aspects of healthcare, there hasn't been as much thought given to the practicalities of rolling this out" Roberts explains. 
"When adopting a mobile initiative in hospitals, healthcare professionals need to consider how they will store and charge their devices, now and in the future. With the increased use of mobile technology, there must also be proper care for the technology. There must be a procedure for cleaning and organising the devices."  
"It should include storing and charging devices in one location and wiping those devices down every time they are used. It should include keeping people two metres apart as they collect their device for the day and return it at the end."
He adds that another consideration should be locking devices away. "There is a fear of devices getting stolen, and with them patient information. This would lead to data breaches within the system."  
"We recognise the critical importance of mobile devices in healthcare. With the adoption of proper safety protocols for those devices, the quality of compassionate healthcare for patients will be improved beyond measure."