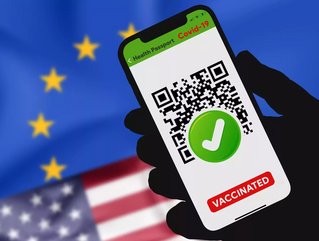 We take a look at 10 digital health passports and what they offer.
A number of tech companies have stepped forward to offer digital health passports in a bid to help economies reopen. This means there is now a variety of apps, digital passes and other types of credentials available that verify COVID-19 status one way or another. We take a look at 10 of these and what they offer. 
 
10: V-Health Passport
British cyber technology company VST Enterprises are behind the V-Health Passport™, an app available from the Apple App Store and Google Play. At the time of its launch it was labelled the world's first publicly available secure digital health passport. The app displays different colours to show various health statuses, and VST has also created solutions for health organisations and venues.

09: EN-Covid passport 
The UK Government has funded the EN-Covid passport, which uses vein mapping rather than a smartphone app. Developed by FinGo, it enables users to register their unique vein pattern (via a fingerprint) for identification, and uses blockchain to store COVID-related information. It has been trialled in a care home where, where it made is possible for staff moving between registered facilities to scan their finger for test results.
08: U-Pass
The U-Pass™ has been developed by IT company Unisys and California-based diagnostic testing company Inspire Health. Aimed at indoor businesses, it uses biometric identity management software to verify people's identity. Health checkpoint kiosks can be deployed at entrances, where the biometric ID, combined with a negative test result, allows for physical access.
07: Airside Digital Identity App
The Airside Digital Identity App uses biometric ID, by matching selfies taken by the user and additional identity details, as well as COVID test results and vaccine status. The IDs use facial recognition, anti-spoofing and fraud protection.

06: SafeAccess
SafeAccess is aimed at the workplace. Employers enter their specific policies and requirements into the platform, and visitors can perform self health assessments based on these. Administrators are able to access status reports and analytics, to carry out audits and check compliance.

05: SafeFun
Part social media platform part digital health passport, SafeFun enables users to share their health records with friends, family employers and public venues. The platform has "follower" and "following" categories similar to those on Facebook, for instance. Once downloaded, users can search through contacts and request friends, who then have the option of approving requests so they can monitor and determine who they're comfortable gathering with in their vetted social network.

04: VaxAtlas
VaxAtlas has been designed for both consumers and employers to keep track of vaccinations via an online platform. Users can scan paper records and claims data into the platform, which can issue alerts for future boosters and notifications if any safety issues arise from the administered vaccine. VaxAtlas users can share information with any organisation, whether it's a verification pass, schools, entertainment venues, airlines or businesses requiring COVID-19 vaccination.

03: Microsoft's CoronaPass
Microsoft's solution is a 'pass' that users can apply for once they've had a negative test or vaccination. Once approved, they receive a CoronaPass QR code that can be stored on their mobile device, similar to a boarding pass, which can then be shown to airline and venue staff.

02: IBM's Digital Health Pass
IBM's Digital health pass uses blockchain to keep data secure. Like other health certifications it uses a mobile app and generates QR codes. It is currently being trialled by the State of New York at venues such as Madison Square Garden.

01: CommonPass
Developed by Swiss non-profit the Commons Project Foundation, the CommonPass is being used by several major airlines including Lufthansa, United Airlines, and Virgin Atlantic to check passengers' COVID-19 test results. After users save test results and other health info, the CommonPass app creates a QR code which can be printed or scanned by airline staff.