The world's top 10 most energy efficient hospitals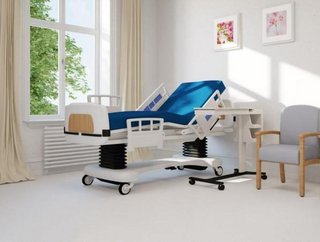 Sustainability is an inconsistent feature in today's hospitals. Although, climate change and pollution can cause serious public health ris...
Sustainability is an inconsistent feature in today's hospitals. Although, climate change and pollution can cause serious public health risks, reducing them would lower the strain on hospital resources.
Hospitals consume large amounts of energy and produce high levels of waste. Many caregivers and administrators fear that they cannot lower their facilities' environmental impact without compromising patient care. But these hospitals won't admit defeat, and many continue to develop new environmentally friendly innovations.
RELATED TOPIC: Top 10 healthcare systems in the world
As was initially reported in the November issue of our sister publication Energy Digital, these 10 hospitals have been particularly effective at protecting the environment, while still maintaining or improving patient outcomes.
10. Bir Hospital — Kathmandu, Nepal
Bir Hospital has received international recognition for its waste reduction efforts, which are considered as much a humanitarian feat as an environmental one. The hospital has cut its medical waste in half, and now recycles 55 percent of all the waste it produces. Bir is currently experimenting with new methods that will allow it to reduce waste even more, including vermicomposting, as well as a biogas system that could power the hospital with the methane from organic waste.
9. Martha's Vineyard Hospital — Oak Bluffs, USA
An island facility, the Martha's Vineyard Hospital is committed to reducing the strain on local wetlands and waterways. The hospital has its own leaching pits and bioretention areas, which it uses to remove pollutants from storm water runoff and wastewater. Not only does this preserve the environment, but it also helps keep island residents healthy, reducing the strain on hospital resources. The hospital also offers preferred parking to residents who arrive in car pools and/or in fuel-efficient vehicles.
RELATED TOPIC: Top 10 healthcare companies in the U.S. based on revenue
8. Sunnybrook Centre — Toronto, Canada
The Sunnybrook Health Sciences Centre divides its environmental initiatives into five main goals: energy savings, eco-friendly transportation, responsible waste management, procurement, and raising awareness. The hospital has implemented a gas scavenging program in its operating rooms to prevent harmful anesthetic gases from seeping into the environment. It serves food in biodegradable containers, composts food waste, and uses dual-fuel shuttles to transport patients to and from the building. The hospital estimates these initiatives eliminate nearly 9,000 metric tons of carbon dioxide emissions annually.
7. Wythenshawe Hospital — Manchester, UK
Also known as the University Hospital of South Manchester, this hospital relies on a wood chip boiler for much of its power. The first boiler was installed in early 2008, and by mid-2010 it was able to cut energy use by 26 percent and make the facility's cardiac center self-sufficient. The facility has since installed a larger boiler and a ground heat pump to further reduce carbon emissions. Wythenshawe also installed energy-efficient light bulbs, insulation, and other technologies to reduce energy use and pollution.
RELATED TOPIC: Top 10 U.S. hospitals for patients to progress
6. The Pittsburgh Children's Hospital — Pittsburgh, USA
The Pittsburgh Children's Hospital was among the first pediatric hospitals in the U.S. to receive LEED certification. The hospital was built from post-consumer steel and other recycled materials, as all sealants, adhesives, and paint used on the building have minimal levels of volatile organic compounds. The facility encourages patients and visitors to be sustainable, providing them with bike racks, convenient access to public transportation, and discounts if they arrive in a car pool. In addition, the hospital staff offers green education to patients, visitors, and other staff members, helping them to continue saving the planet after they leave.
5. Mount Elizabeth Novena Hospital — Singapore
One of the first things patients will notice about the Mount Elizabeth Novena Hospital is its roof is covered in trees. Not only is this visually appealing, but it also reduces the amount of electricity needed to cool the building by blocking the sunlight. The hospital has further lowered its energy use by installing insulated glass windows, energy-saving lights, and motion sensor lighting. The roof contains photovoltaic solar panels, which the hospital uses to boil water and to power lights for the rooftop garden. There is also an efficient water management system that has reduced water use by 30 percent.
RELATED TOPIC: TOP 10: Best hospitals to work for in the Northeast USA
4. Sechelt Hospital — Sechelt, Canada
Known as Saint Mary's Hospital until early 2015, this LEED Gold-certified facility has always demonstrated a commitment to preserving the environment. Saint Mary's uses a series of radiant slabs and boreholes for heating and cooling, allowing it to minimize energy use in climate control. Its 19 kW photovoltaic system has been able to meet much of its energy needs on sunnier days. The hospital was also designed with green building principles, reducing energy use by 40 percent. In 2012, the facility was renovated and enlarged in a carbon-neutral manner.
3. Kohinoor Hospital — Mumbai, India
Since opening in 2009, the Kohinoor Hospital has been committed to reducing its environmental impact while saving patients money. According to a 2012 article in the Economic Times of India, it was the only hospital in all of Asia at the time to be both LEED certified and Platinum rated. Kohinoor relies entirely on LED and CFL light bulbs, and uses photovoltaic power instead of geysers to heat its water. The hospital has installed high-efficiency air conditioning equipment, allowing it to cut HVAC energy use in half. It also harvests rainwater and treats its own sewage in order to reduce water use.
2. Khayelitsha Hospital — Khayelitsha, South Africa
Considered one of the best hospitals in South Africa, Khayelitsha was built with the highest-quality passive design techniques available to reduce artificial lighting. Where electric light is needed, the facility relies on CFLs and LEDs to minimize energy use. The building has its own photovoltaic system and wind turbine to generate energy, as well as its own autoclaves to sterilize and reuse water.
RELATED TOPIC: TOP 10: Best Children's Hospitals on the West Coast
1. Torre de Especialidades — Mexico City, Mexico
While most hospitals seek to improve sustainability, they focus on lowering their own energy and resource use to reduce pollution and waste. However, Torre de Especialidades actively removes smog from the surrounding air. The hospital is surrounded by a giant, honeycomb-like screen that is coated with titanium dioxide, which converts smog into benign chemicals upon contact. The screen also blocks sunlight, which reduces the amount of energy it takes to air condition the hospital. Building the Torre de Especialidades has had the same effect on air quality as taking a thousand cars off the road each day.
Click here to read the latest edition of Healthcare Global magazine!