US and Norway are top-paying countries for healthcare roles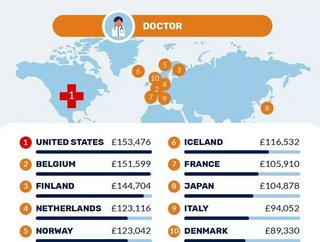 A new survey has revealed the 10 highest paying countries for people in the healthcare sector...
A new survey compiled by online contact lens retailer Lenstore lists the average salaries per country for a number of healthcare roles, including doctors, midwives and radiologists. 
The US ranked as the highest paying country for healthcare professionals, most noticeably for radiology, which pays an average salary of £308,573, followed by doctor with a wage of £153,476 and optometry, which pays £95,768. 
Norway comes in second place, with high salaries for dentists who earn £126,460 and neurologists, who receive £184,422. 
The highest paying profession across all 10 countries is that of a radiologist, with a lowest average salary of £130,923 in Portugal, rising to £308,573 in the US. 
The research also looks at spend on healthcare systems and consumer spending habits. It found that Ireland spends the most on healthcare at £16,747 per capita, followed by Iceland with £10,076 and Norway in third place with a spend of £9,867 per person. 
In terms of consumer habits, the research analysed what people spend on luxury items compared to their healthcare over the course of their lifetime. It found the following: 
In the UK consumers spend almost triple on a Playstation Live than on their eye care 
In France consumers spend more than double on alcohol than on dental appointments 
In Australia people spend 32 per cent more on Netflix subscriptions than on eye care
Lenstore was founded in London in 2008, and acquired by GrandVision in 2013, a global optical retailer with over 7,000 stores across 43 countries. The data for this study is taken from sources where information on government spending on healthcare is available. View the full study here: Lenstore - the global health spend analysis