Wearable COVID-19 tracker available in Southern Africa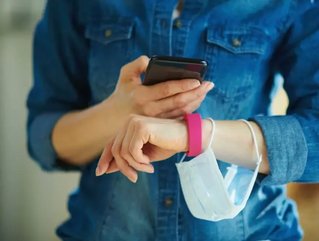 The device has been designed to help people get back to work safely...
LifeQ, a manufacturer of wearable devices containing health information and biometrics, is to supply its COVID-19 early warning and disease tracking device to Southern Africa, thanks to a partnership with cybersecurity company ESET. ESET is LifeQ's first customer for the tracking system. 
The device has been designed to help companies get back to business safely in the midst of the global pandemic, allowing businesses to predict outbreaks and assist employees towards recovery.
LifeQ offers a personalised anomaly detector, that works by analysing a range of continuous physiological streams to spot the onset of illnesses like COVID-19 even before symptoms are displayed. It also monitors progression of the illness to help triage for medical intervention.
"Beyond the longer term promise of vaccines, a growing range of measures are being adopted to adjust to a new normal, including point of care testing, temperature screening, wearing of masks, social distancing, sterilisation of surfaces, PPE, and symptom reporting," says Laurie Olivier, CEO of LifeQ. 
"However, while having some prevention benefits, none of these measures are as adequate as an early warning system of infections to prevent the spread among co-workers at offices, in manufacturing plants and on construction sites."
"Businesses and manufacturing operations that cannot function effectively on a remote basis have to go out of their way to safeguard their employees. In the US, class action lawsuits have already been launched against businesses, requiring them to demonstrate that they have taken every possible means of precaution" he continued. 
"Some entities have been holding out in the hope that the COVID-19 threat will disappear, or that a super vaccine will become available to decisively terminate the pandemic. Progressive organisations are coming to the conclusion that the challenge will not evaporate overnight, and it is best to adopt new technologies that could help deal with the anxieties of employees who would like or may need to return to the office, but are rightfully scared of being infected by their colleagues."
The LifeQ solution serves as a screening tool that makes a recommendation to take a COVID-19 test if no other explanation for anomalies can be found. 
The challenge wearable devices face is being able to monitor the wide range of physiological parameters needed, as the COVID-19 virus behaves very differently from person to person. "No single measure like breathing rate or resting heart rate is sufficient as an effective universal screening mechanism" says Franco du Preez, LifeQ's Chief Scientist.
"Also, while having suitable outputs for consumer use, we are not aware of non-LifeQ enabled wearables with the accuracy and range of biometrics required to minimise false positives and negatives in order to be an effective early warning system for COVID-19." 
LifeQ, makes its solutions available on wearable devices like smartwatches and fitness trackers, such as VeoSens, its life insurance programme to determine the risk for individuals suffering complications as a result of COVID-19, which which is available on a smartwatch.