3 challenges the Apple Watch needs to overcome to succeed in health care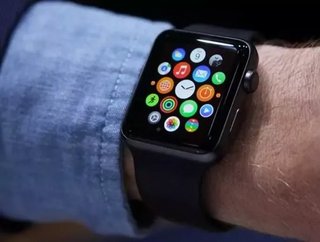 After the insurmountable buzz, the Apple Watch was finally released last week. Within its first day of pre-orders, Apple secured more sales than all of...
After the insurmountable buzz, the Apple Watch was finally released last week. Within its first day of pre-orders, Apple secured more sales than all of the Android smartwatch manufacturers combined in 2014, according to Forbes.
As popular as it is with consumers and Apple fanatics, should doctors and health care executives be just as impressed? And more importantly, could the Apple Watch become as indispensable as a stethoscope in the future?
According to Michael DeFranco, a thought leader in the mobile workforce revolution, the use of smartwatches for messaging in health care has the potential to solve a number of issues plaguing the industry.
A study conducted by the Ponemon Institute also found that 39 percent of health care professionals believe time is wasted by not using text messaging. The study also revealed that inefficient communication triples admission time, doubles emergency response time for each patient, and costs a hospital an estimated $1.7 million per year in wasted time.
RELATED TOPIC: Has Apple Won the Hearts of the Nation's Top Hospitals with HealthKit?
While DeFranco believes that smartwatch adoption offers the opportunity for advances in the health care industry, he noted three key challenges that first need to be addressed before smartwatches and the Apple Watch are accepted industry-wide.
1. Interference
Smartwatches need to be paired with a phone and therefore there are concerns about interference with equipment in intensive care units or operating rooms. Multiple hospitals have policies prohibiting the use of mobile phones in these rooms so policies would need to be reviewed and updated if the Apple Watch were to be accepted.
2. Hygiene
Watches are notoriously hard to clean—pair that with sensitive technology and you've got an even bigger problem at hand. All health care professionals are known for their hand washing and cleanliness, so a smartwatch needs to be just as particular. Whether this means UV disinfection or alternate methods, this is a critical thought to consider.
RELATED TOPIC: Google vs. Apple: Who Will Be the First to Reinvent Health Care?
3. Battery Life
Finally, DeFranco notes battery life as a primary challenge for smartwatch adoption. The Apple Watch currently offers a battery life of 18 hours after a full charge, but there are a number of variables that could affect this—including making phone calls.
"While the battery life should be sufficient for most people, healthcare providers relying on it for important messages may find it insufficient as the number of notifications they receive throughout a typical day may be much higher than the average user," states DeFranco.
For those three reasons, this is why DeFranco and numerous other health care leaders do not see the Apple Watch and other smartwatches being adopted by the industry—right now, at least. While better patient care and more efficient communication is always the goal, these challenges need to be addressed first.