New location-based contact tracing app is unveiled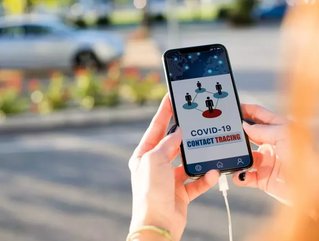 The app uses existing data to identify people who may have been near a hotspot...
 A robust contact tracing system is essential for people to return to work and for children to get back to schools as safely as possible, minimising the spread of infection. 
Contact tracing involves identifying, testing and, if the result is positive, isolating people who have been exposed to COVID-19 to prevent further transmission. When systematically applied, contact tracing can break the chains of transmission of the virus, .
There are currently two main methods of contact tracing: manual tracing and via a mobile app. , conducted by volunteers, it has limitations, which include incorrectly recalling contact events, and the time taken to notify contacts which can delay quarantine, as it's a time-consuming process.  
Tracing via a mobile app, developed by Google and Apple, uses Bluetooth technology to log contacts between people who are running compatible apps on their phones. This is faster as notifications are instantaneous, but there are issues around uptake and concerns around data privacy. 
Now software developer Everbridge is introducing new location-based technology that uses existing location data to identify individuals entering transmission hotspots or coming into close proximity with an infected patient. Location-based tracing doesn't require any action on the part of users to operate - there's no requirement for individuals to register at the places they visit or download a mobile app.
The software can also supplement or complement existing manual contact tracing efforts to improve accuracy. 
Everbridge provides solutions in critical event management, and claims this is the industry's only contact tracing solution that combines an existing mobile app for wellness checks and self-reporting, combined with existing integrations of company systems to produce a more complete set of data.
"As the global leader in critical event management to help mitigate COVID-19, Everbridge offers the industry's most comprehensive path for organizations to help people return to work and other public spaces," said Imad Mouline, Chief Technology Officer at Everbridge.
"With the benefit of thousands of trusted sources of data and our advanced IoT capabilities, we are in a unique position to help organizations automate the coronavirus exposure tracking process, bringing people back safely and helping to recover their operations."
Everbridge contact tracing uses data from physical badge access control systems, wifi hot spots, calendar systems, travel itineraries, visitor management, and thermal cameras to determine who may have been exposed to an individual with COVID-19. Bluetooth Low Energy proximity data adds information on has been within close proximity, and special needs registries help protect the most vulnerable people by highlighting if they have been near an infection. 
Information based on 22,000 data sources across 175 countries tracks everything from virus hotspots (including a dedicated coronavirus data feed) and travel restrictions to quarantines and states of emergency in order to determine if people are near areas of heightened risk. 
Meanwhile, its crisis management capabilities automate notifications to alert people potentially at risk, and the system has the capacity to reach over 550 million people in more than 200 countries and territories.