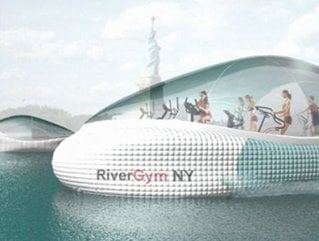 1. Gymbox, Various Locations, London Gymbox has the ultimate cool factor when it comes to working out. Featuring a colou...
1. Gymbox, Various Locations, London
Gymbox has the ultimate cool factor when it comes to working out. Featuring a colour scheme of black and yellow, neon lighting and laser-lit floors, the atmosphere is decidedly funky.
Out of the four Gymbox centres in London – Bank, Westfield, Holborn and Covent Garden – the latter, housed in the St Martins Lane Hotel, is reportedly Europe's largest hotel gym.
Each location offers state-of-the-art fitness equipment with personal TV screens and Playstation consoles adorning the treadmills and exercise bikes. The 'human weights' add a personal element to workouts; dressed in black catsuits displaying their weight, they can be found sitting on specially adapted lifting equipment for users to test their strength.
Members can enjoy the sounds of resident DJs who provide the exercise soundtrack on a nightly basis and are further encouraged by hip-hop belly dancers and drag queens. The classes on offer are also unique and include Tempo Yoga, The Rave, Grab Your Balls and Diva.
2. Human-Powered River Gymnasiums – New York, US
Although these unique innovations are only a concept, they are undoubtedly cool. Described as the ultimate contemporary urban gym, these floating fitness centres will also act as transportation devices and will use exerted energy to travel along the Hudson and East rivers. They'll also be fitted with on-board water-purification devices to clean the water as they go. 
3. Illoiha Omotesando Fitness Gym – Tokyo, Japan 
It's hard to imagine this gym could be beaten where uniqueness is concerned. Located in Tokyo's fashion district, it blends haute couture with the thrill-seeking sport of rock climbing. The visually incredible climbing wall is the pièce de résistance and features interior furnishings – shelves, picture frames, vases and mirrors – as its finger grips and foot holds.
4. Nike World Headquarters – Oregon, US
The sports centre at the Nike's Beaverton HQ is one of the most famous employee fitness facilities in the world. Catering for over 5,000 staff members and their families, the two gyms on Nike's campus span 110,000sqft. It also boasts a pool, climbing walls and volleyball, basketball, racquetball, tennis and squash courts, along with a running track made from recycled shoes.
5. Athletes' Performance – Various Locations, US
Athletes' Performance has facilities across America, in Arizona, California and Texas. The company offers top-choice services for hundreds of elite athletes, along with programmes for up-and-coming college and youth stars. It also caters for business executives and industry leaders. Yearly membership can reportedly cost up to $30,000, but it means you can workout alongside NBA and NFL players.
6. Tiger Muay Thai – Phuket, Thailand
Certainly the biggest fitness centre in Thailand and one of the most famous mixed martial arts training centres in the world, Tiger Muay Thai is located in the heart of the tropical rainforest. Training props apparently consist of sledgehammers and truck tyres. Yoga is also on offer, along with lessons in the traditional Thai culture and Buddhism.
7. Gold's Gym – International
Although it's now an international chain of gyms with outlets across the globe, the original Gold's Gym in California's Venice Beach is frequently described as the Mecca of bodybuilding. It rose to fame after Arnold Schwarzenegger became one of its frequent visitors and after featuring in the 1970's docu-film Pumping Iron. Gold's is also listed 39th out of 100 in ESPN's most important sports venues in America.
8. Pineapple Dance Studios – London, UK
Again located in Covent Garden, Pineapple Dance Studios is one of the most famous dance training centres in the world. Founded in 1979 by English model Debbie Moore, it took its name from the building it occupied – a former pineapple warehouse. Today its 3,500 members can take advantage of 200 weekly classes and specialise in almost 40 different styles of dance.
9. One Aldwych – London, UK
One Aldwych is a luxury five star hotel in Covent Garden. The building it occupies is described as "one of the most important Edwardian buildings in London" and has been used as newspaper offices and a bank. The fitness centre is located in the vaults and as well as a state-of-the-art gym, it features a chlorine-free pool with underwater music and mood lighting.
10. Open Air Beach Gyms – Rio de Janerio, Brazil
Aside from sand, sea and sun, another attraction of Rio's beaches is the outdoor gyms. Both locals and tourists flock to the gyms for a free workout and the gyms have become a social congregation point in an exercise obsessed city. Most of the equipment is made from steel to increase its lifespan and many gyms are open 24 hours a day.