Top 10 innovations in heart health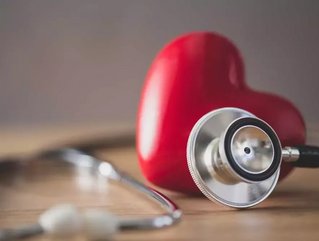 We take a look at 10 exciting innovations happening in heart health...
According to the WHO, cardiovascular diseases are the number one cause of death around the world, impacting around 17.9 million lives per year. The large numbers of people affected mean the ability to monitor heart health and diagnose early is of tremendous importance. 
Thanks to big data, analytics, digital coaching and robotics, huge advances are being made in this field - here we take a look at 10 exciting innovations happening in heart health. 
10: SS Innovations' surgical robotic system
SS Innovations founder Dr. Sudhir P. Srivastava is a specialist in minimally invasive coronary artery bypass robotic surgery, having performed over 1400 procedures of this kind. The company has created South Asia's first surgical robotics system, with specific capabilities for cardiac surgeries. The patient side cart can have between 3 and 5 robotic arms, and the command centre includes large touch-screen monitors, an endoscopic camera and a 3D HD screen to provide a live view of the surgical field to the whole team.
09: Amgen's Rehab+
Biotech firm Amgen is leading a European collaborative project to create an app that will make cardiac rehabilitation more easily accessible to patients who have had a heart attack. Digital healthcare company Liva Healthcare is among the organisations involved in developing Rehab+, which will support patients for more than a year, helping them to transition from a passive, recovery mindset into an active one of self-care. The app will help users assess their lifestyle post-heart attack, set personal goals to reduce risk, and make long-lasting positive lifestyle changes.
08: Tyto Care's Pulse Oximeter
In early 2021 Tyto Care launched its fingertip Pulse Oximeter, making it possible for patients to measure their blood oxygen levels and heart rate while at home. Users place their finger on Tytocare's monitoring device for 15 seconds, which is connected by cable to the Pulse Oximeter. The results appear immediately, both on the handheld device and the Pulse Oximeter adaptor itself, and are also recorded within the Tyto Care platform for a clinician to review, and sent to the patient's EHR. This way individuals who are at high risk of heart conditions can be monitored effectively while COVID-19 distancing rules remain in place.
07: NHS England's HeartFlow
NHS England is rolling out new technology that turns a regular CT scan of the heart into a 3D image. HeartFlow allows doctors to diagnose serious heart disease in just twenty minutes, making diagnosis five times faster than usual and enabling treatment to begin earlier before the risk becomes life-threatening.
06: Thinklabs' digital stethoscope
Medical electronics company Thinklabs say their digital stethoscope - Thinklabs One - is the smallest and most powerful electronic stethoscope in the healthcare industry. The device fits in the palm of the hand and boasts amplification of more than 100x compared to a typical acoustic stethoscope, making it ideal to keep doctors and patients at a safe distance during the pandemic while listening to the patient's heart beat. It's compatible with bluetooth and enables clinicians to record and even playback data via an app.
05: Acorai's non-invasive heart monitor
Startup Acorai is developing an AI-based medical device that could become the first non-invasive blood pressure monitor within the heart. It uses sensors combined with the user's mobile phone to monitor ventricular pressure – the blood pressure in the chambers of the heart. A slowing of pressure can indicate a problem, and the earlier it is discovered the better the prognosis.
04: my mhealth's cardiac rehab project
my mhealth, a digital therapeutics company approved by the NHS, has been awarded €2.5 million to lead a project developing an app that aims to help patients with heart conditions rehabilitate. Called CUOREMA, it will use the cardiac rehabilitation component of the existing myHeart app, along with algorithms and gamification, to support patients to make lifestyle changes.
03: Valencell's finger and wrist BP monitor
Valencell recently expanded its blood pressure technology to be used in devices worn on the finger and wrist. This enables smartwatches, fitness bands, patches and pulse oximeter finger clips to passively monitor for hypertension and related conditions. The data the devices gather, along with physical characteristics such as age, weight, and height, is processed by Valencell's software using machine learning techniques and data from tens-of-thousands of patient results.
02: Biobeat's hospital-at-home RPM kit
Biobeat has created a wearable remote patient monitoring platform powered by artificial intelligence for patients to use in their homes, giving them hospital-level care that's home-based. A wrist and chest-patch help to continuosly measure crucial vital signs including blood oxygen saturation, respiratory rate, blood pressure, pulse rate variability, cardiac index, and skin temperature. Connected to a cloud-based patient management system, it provides medical staff with real-time data and alerts, allowing them to identify any issues early.
01: Withings Body Cardio
Earlier this year Withings released a wifi connected smart scale called Body Cardio. The scale not only tracks weight, but can also measure bone, muscle and fat mass thanks to bioelectrical impedance, as well as heart rate and pulse wave velocity (PWV) to measure cardiovascular health. Now the company has launched Vascular Age, an index that uses Withings' algorithm to compare the user's PWV against the norms for their age.